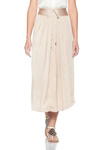 By Kirk Bachelder
As summer gears up, retailers must predict up and coming trends for fall 2013 to ensure high sales and repeat customers. Next season's must-haves include retro midi-skirts and large overcoats for women, and cuffed pants and chunky boots for men.
Fashionable this fall are women's pantsuits with a jacket featuring a full-length train, dubbed "training pants." Skirts are dropping below the knee and above the ankle, as "midi-skirts" make a comeback. Alternately, nightlife will see thigh-baring skirts paired with vampy thigh-high leather boots. Pointy pumps in patent leather with flirty tips are also striking contenders for sales.
Men will be courting cuffed pants across the board, in both casual and dress attire. Denim cuffs often will be paired with chunky military style boots for a casual look. Meanwhile, when dressed to impress, it's the ultra-slim, all-grey suit that's cutting a dashing path through the fall months. Suits overall will favor the double-breasted jacket.
Women's overcoats will be large with rounded shoulders. Not just for super-heroes anymore, ladies also will enjoy the freedom of movement found in capes. Men will be sporting outerwear with strong lines and sharp cuts enhanced by black leather, as well as staple double-breasted coats.
Knit statement scarves, long favored by women, are expected to be a hit with men this fall. Large enough to be draped over the shoulders or knotted and twisted up tight, scarves will be popular in conservative solids and dashing plaids.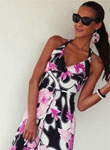 For women, leopard and radical floral prints and non-traditional plaids are in. Solid colors making a splash include scarlet and "royal velvet" purple, and a bold ice blue on black color combination. Also hot this fall are neon pinks, yellows, greens and oranges. For men, burgundy is a major color choice along with denim blue, and camouflage prints maintain their stronghold. Consider slate the new neutral in wardrobes for both genders.
Fall is crisp and clear, so to achieve additional sales be sure to offer men's and women's sunglasses that will complement the latest fashion trends. You'll find a great selection at CTS Wholesale Sunglasses.
Kirk Bachelder is owner of CTS Wholesale Sunglasses. With more than 20 years of buying and selling sunglasses, in both wholesale and retail arenas, CTS has first-hand knowledge of styles that retail well.