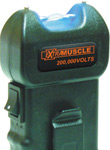 DMA Inc. is a wholesale distributor of gun accessories, airsoft guns, knives, swords, law enforcement and tactical gear, personal security items, security cameras and closed-circuit television (CCTV) equipment. The company is continuing to expand in several categories. "We are adding to our gun accessory line and it is very strong," says owner Rohit Oberoi, who launched the company in 1991.
The accessory line includes buttpads, flashlights, grips, handguards, magazines, mounts, scopes, sights and much more. "We offer quick acquisition sites, lasers for pistols and rifles, rifle accessories like rails, and anything related to a law enforcement tactical rifle and hunting rifle," Oberoi explains. "We also carry a full line of commercial grade CCTV equipment that we install in police and fire departments, as well as in businesses like gas stations and liquor stores." The self-defense market is huge, Oberoi reports, and products in this category will maintain their popularity with consumers as long as there is crime. "Women and senior citizens can be especially concerned about their safety, and many people like to carry some kind of self-defense tool such as pepper spray or a stun gun. This is perfectly legal in most states," he adds.
Self defense sells
Pepper sprays and stun guns are good ways to deter perpetrators, Oberoi notes. "If someone attacks a woman from the back, she can use a stun gun that gives a shock which will put an assailant down to the ground in a matter of seconds, and completely paralyze him for ten to 15 minutes." In DMA's self-defense line, the half-ounce pepper spray key chain wholesales for $2.50 and retails for $5.95. For hunters, the company's nine-ounce fogger, which can be used as a bear deterrent, wholesales for around $12.50 and retails for $24.95.
DMA has been in business for more than 20 years and serves an array of stores, including sporting goods, liquor, hunting, gun stores and gas stations. "Our customers include mom and pop shops, as well as major chains nationwide. We have thousands of different items in stock, and we maintain a consistent inventory of goods to keep orders shipping quickly." The minimum order is $150, and DMA Inc. offers discounts on cases and orders over $1,000. "We are here to answer any questions customers have, and we work with them to ensure they are satisfied. That sets us apart from our competition," Oberoi points out. A color catalog is also available.
Where to buy:
DMA Inc.
3015 E. Randol Mill Road
Arlington, TX 76011
Tel.: 800-337-2466
Visit:
DMA Inc.