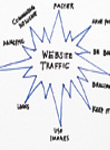 Website traffic can be separated into different segments. At the most basic level, there are two types, qualified and unqualified traffic, and variations between the two will determine whether or not sales are achieved.
An example of unqualified traffic is a wholesale jewelry supplier whose website mainly attracts consumers who are not qualified to buy what is being sold. Unqualified traffic will increase the number of unique visitors per month, but it will not increase sales.
Qualified traffic, on the other hand, would be a wholesale jewelry supplier whose website draws mainly jewelry retailers looking for products to sell. Qualified traffic consists of visitors who want what is being sold and, as a result, provides a better chance of increasing online sales.
Important points to consider
All traffic is not created equal. Take, for example, a traditional brick and mortar store that is located on a busy street. The store may get a lot of visitors walking by that look in the window but have no intention of entering the store. These window shoppers probably will not buy. A person who actually walks into the brick and mortar store is more likely to make a purchase, and therefore is more qualified.
On the Internet, however, just because visitors arrive at a website does not mean they are qualified to buy. Some retailers invest tens of thousands of dollars in a professionally designed website only to find that the site is not attracting qualified buyers.
The inconclusive "hit"
It may be difficult to believe, but many retailers still focus on the number of "hits" their websites receive. A hit occurs when a visitor requests information from a website or server, such as an image, document or copy. Even a non-human BOT can create a hit. Furthermore, a visitor who arrives at a page with 10 pictures on it and nothing else, for example, generates ten hits, although they are only one unique visitor. If another visitor comes to the site, ten more hits are generated, but there are only two real unique visitors. The amount of hits is not the metric that should be considered to determine the number of website visitors. The metric that should be examined is the number of unique visitors.
Proper tracking and analysis enables you to narrow down the type of visitors who are more qualified. The qualification must begin from the first moment consumers come in contact with the brand, through organic search (SEO), paid search (PPC) or other advertising means.
How to attract qualified traffic using paid search
Understanding target customers, bringing them to your site through proper advertising channels, and speaking to them in their language goes a long way toward increasing website sales. Attracting more qualified traffic to a website can be accomplished in many ways. Here are a few tips to best utilize pay-per-click (PPC) marketing:
1) Use more descriptive words in titles and descriptions. Words like "shop," "wholesale," "quantity," "order" and "buy," for example, will attract traffic that arrives with the knowledge that something is being sold at wholesale prices. Qualifiers such as these can be instituted to increase the amount of targeted traffic a site receives.
2) Use less broad match keywords, and more phrase match and exact match keywords. These will typically drive less traffic, but that traffic will be more qualified to purchase.
3) Add negative keywords to a broad match campaign to eliminate wasted clicks. Adding words such as "cheap" or "free" to broad match keywords such as "wholesale electronics," for example, will cut down on or eliminate visitors who are looking for, "cheap wholesale electronics," but will not eliminate those looking for name brand wholesale electronics.
As discussed, there are two types of website traffic. To get the biggest bang for your advertising and marketing bucks, implement best practices that will attract the most qualified traffic to your online store.
About the author
Eric Leuenberger is an ecommerce expert, founder of Ecommerce Amplifier, and owner of Voom Ventures, LLC whose products and services help storeowners and operators increase traffic, maximize ROI, decrease expenses and increase revenue. He can be contacted online at www.TheEcommerceExpert.com or by phone at 866-602-2673.