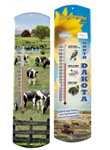 Heritage America Gifts, by Morco, manufactures a unique line of gifts, including thermometers, rain gauges, slate clocks and license plates. "Our products are both functional and beautiful," states David Hart, president." Heritage America offers name drop printing, making its products popular giveaways for businesses as well gifts for consumers.
"We have a wide spectrum of graphics, including military, floral, agriculture, inspirational, religious, states and wildlife," Hart says. "It's quite a mix, and we continually add more designs. We have 110 designs that can go on 15 products, giving retailers more than 1,500 options to reach any taste or décor."
Two of the company's best selling products are the 15 and 20-inch thermometers, which are made of heavy plastic so they will not rust. Eco-friendly, the thermometers do not contain mercury. They are solar powered by day and will tell you how hot it is, and lunar powered at night and will reveal how cool it becomes. The 20-inch thermometer wholesales for $7.50 and retails for $15 to $18.
New products
Heritage America recently introduced several new items, including a letter size clipboard, magnetic paperclips, a 12-inch ruler, bag tags and switch plates. "They are popular sellers at gift and souvenir shops, theme park shops, drug stores, and other types of stores," Hart points out. "We offer the paperclips in two sizes, and they are a very affordable, attractive gift or keepsake. Paperclips work anywhere and you often find them in the kitchen on the refrigerator, holding up kids' artwork or notes, and clipping bagged foods closed to keep them fresh." The large paperclip wholesales for $3.50 and the small paperclip wholesales for $1.25.
"The ruler is a nice back-to-school item because it can be personalized to each child's taste, and the bag tag is great for a backpack or a gym bag," Hart continues. The ruler wholesales for $1.45 and the bag tag wholesales for $1. Switch plates are also fun for kids, and can dress up a child's room with a wildlife scene or another favorite design. The switch plate wholesales for $1.35 and the clipboard wholesales for $6.25. Retail pricing for all of Heritage America's products is generally keystone.
Made in the USA
All of Morco's products are designed, printed and produced in the USA. "We're proud of that heritage," Hart remarks. Hart is also pleased to report that Morco listens and responds to its customers. As the result of customer requests, the company recently expanded its graphics to include a wolf, now part of its wildlife series, and a butterfly, now part of its floral series. "If it is something someone is interested in, and we can find images we can use, and we feel it's something other people would be interested in as well, we'll add it to our line," Hart shares.
"Retailers can call us and we'll send them a catalog with wholesale pricing, but it's a good idea to check our website to see our most recent designs," Hart adds. The minimum order is one case of 25 pieces, and customers can mix and match designs. For name drop printing, there is a two case minimum and a set up fee. Products are printed upon order, and Heritage America asks for a two-week delivery period.
Where to buy:
Heritage America Gifts
125 High Street
Cochranton, PA 16314
Toll free: 800-247-4093
Visit: Heritage America Gifts