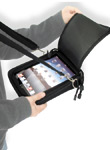 Pontiac Eleven LLC has designed a line of protective nylon hybrid bag and case units for Apple iPads and MacBooks. In addition, the portable cases offer easy access to the tablets for consumers on the go, and attach easily to the body so they won't accidentally be left behind. The company offers two versions for the iPad, as well as a design for the MacBook.
The Padded Ballistic Nylon Hybrid Travel Case with Strap displays the iPad in a portrait orientation, and the Padded Ballistic Nylon Hybrid Travel Case/Mini-Messenger Bag provides users a landscape direction. Each unit zips open to reveal the tablet, and fits iPads 1-4.
"My iPad product allows consumers to use their iPads while commuting, on a plane, train or bus, for example, in a coffee shop, or anywhere really," explains Jerome Jao, CEO. The comfortable strap can be placed over the shoulder or around the neck. "It is really convenient because it's a bag and case in one."
For the MacBook Air and MacBook Pro, Pontiac Eleven recently introduced the Transform Hybrid Messenger-Case for MacBook Air/MacBook Pro. "I'm excited about it," Jao continues. "Consumers who travel or go to a Starbucks to use their MacBooks used to have to put it in a sleeve and put the sleeve in a bag. Ours is a messenger bag that is the sleeve, so you just put it on the table and flip it open to use the MacBook. It protects the computer and is very easy to use." The Transform for the MacBook is available in all the MacBook sizes, including 11, 13 and 15-inch.
With so many consumers using iPads and MacBooks, Jao points out, the market for these cases is huge. "And there aren't any other products like ours on the market." Jao is in the process of patenting his designs.
Consumers and merchants alike benefit
The bag and case combos are popular sellers in electronics stores, gift shops, kiosks and other retail shops. "Not only are these products great for retail sales, they often are used by retailers themselves," Jao notes. Many merchants take payments with apps that attach to their iPads, and they benefit by having their devices close at hand at all times." In addition, Pontiac Eleven receives orders from schools and rehabilitation centers that use iPad therapy for children and older adults. "With the strap and case functionality, no one has to worry about anyone dropping and damaging a tablet."
Color options for the products include black and red ballistic nylon, blue denim, olive green canvas and black leatherette. The iPad cases wholesale for less than $20 and retail for $39.99 each, and the Transform for the MacBook wholesales for around $25 and retails for $49.99. The minimum order is $500. "We can do customized private label branding, for orders starting at 500 units, at a lower wholesale price," Jao adds.
Where to buy:
Pontiac Eleven LLC
405 Tarrytown Road
White Plains, NY
Toll Free: 800-701-8478 ext. 3
Visit:
Pontiac Eleven LLC