by Erika Jolly Brookes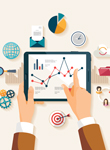 2016 is in full swing, and merchants everywhere are gearing up for the spring and summer seasons. The challenge is making a smooth transition from the slow post-holiday season to the rest of the selling year armed with a clear plan
After recovering from the holidays and treading the waters of this year's new marketing trends, some retailers found themselves struggling to make full-year plans. There is much on your plate, but you are not alone. We're throwing out a lifeboat with tips that can determine your success for the rest of the year and beyond.
Analyze 2015 Results While Still Fresh
Doing a post-mortem while last holiday season is still at the top of your mind will save you time in July when you are preparing for the 2016 holiday. While it is easy to want to put the past behind us, in this case knowing which marketing channels were the most lucrative to your business, the message you conveyed on each, and how much you spent on each channel lays the foundation for easier planning. Ask yourself these three questions:
What worked and where are the areas of improvement? This can range in specificity from channels, to tactics, to content and individual messages. It is best to be honest here on the areas of opportunity.
What products and offers did customers respond to favorably?
What was your cost per marketing channel? And how does that compare with the results? You want to pinpoint as best as possible a clear ROI for each channel.
Personalize and Prioritize
Looking more closely at your customer data, you recognize that during the holiday season you thankfully have some new buyers, you have existing customers re-purchasing and frankly, you have some customers that did not purchase at all. Let's take these three obvious categories, and segment them to the next level. It's been proven that targeted emails showcasing personalized content increase conversions, so that is what we will plan.
Segment your email lists to increase email engagement. Depending on how much data you have captured, if you can, further break down your list to group shoppers by different demographics. Once your list is broken down, you can then craft and send emails specific to those segments to generate more sales. Another strategy is to use your customer data to look at shopping patterns, including what they've previously purchased, what they're most likely to buy, and whom they are buying for this holiday season. If you capture this type of data, you can use it to build new email campaigns and include a clear call-to-action.
Quality Content is Key for Social Sharing
According to a recent Forbes article, 81 percent of those surveyed indicated that recommendations from friends and families on social media impacted their buying decisions. 78 percent also said that social media posts of companies influence their buying decisions. Consumers engage with social media to find products, and they trust peer-to-peer recommendations.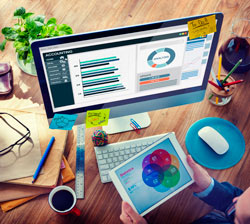 To best leverage social networks, developing quality content that is true to your brand, business, and products is a first step. If it provides the end consumer value as well, then it is a winner. When developing social content, consider ways to make your products feel unique and tangible. Use product-showcasing photos and images or short videos on Instagram, Facebook, and/or Pinterest. Present your products in a way that resonates with your customers, such as a fleece dog vest on a yellow lab or a trendy purse being carried by a fashionista.
Also consider creating guides or project ideas catering to your customers' interests. For example, the must-have shopping guide for the at-home foodie chef or a creative DIY home project brochure that provides ideas for your customers in unique ways and showcases your high value products. Lifestyle photos such as these make your products more tangible, give consumers ideas on how to use them, and make your store's brand more authentic.
While you can always encourage your fans and followers to share your content and make social a two-way conversation – nothing grows a social follower's adoration more than a business they like sharing their content.
Convert Social Shares into Shopping Carts
Instagram and Pinterest are visual channels that create unique opportunities for merchants. And with the introduction of Instagram ads, new photo formats, filters, and the growing number of users, showcasing your store products on this channel is a must.
Online marketers are using Instagram to bridge the gap between social and shopping. If you're unfamiliar with Instagram, start by making your profile an online window store by including descriptive hashtags, a link to your site and high-resolution, lifestyle images. Then, add a link in your Instagram bio to your site. You may also create a connection between a product and purchase by using a short link in your bio to direct shoppers to a unique landing page with your key products available for purchase. The link and the landing page analytics can be tracked to show a path to purchase from a social share to a sale. We recommend an email capture for the browser that does not complete the purchase, and then sending a triggered follow-up email.
You also can consider running a paid ad campaign on Instagram. Feature your best selling products in a video or photo to showcase your product in action.
Incentivize Buying
Flash sales are a great way to incentivize customers with all types of buying habits. Promote "limited preview" sales to highly targeted customer segments. It doesn't need to be a heavy discount – incentivize buyers just enough to feel a sense of urgency or exclusivity. Even just offering free shipping for a minimum order value goes a long way.
Give coupon codes a try. Be sure to measure the success of your coupon with a different code for each channel. Gather even more granular data by creating a unique code for each social platform and newsletter emails. As a storeowner, it may feel like your work is never done. But with these five marketing tips, you can ensure a successful shopping experience for your customers and excellent results for your store in 2016.