By Meaghan Brophy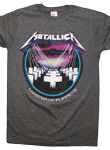 Have you ever wanted to purchase a t-shirt at your favorite band's concert, only to realize the hefty price tag attached to it? As a retailer, you may have experienced similar difficulties trying to bring those same licensed products into your store. Joshua Lundorff, founder of Rockline Enterprises LLC, has partnered with major merchandise manufacturers to create retailer-friendly, economical solutions for sourcing band merchandise and licensed apparel. What originally started as a small retail business selling action figures of bands and musicians, has quickly grown into a full-service distribution company. Lundorff now serves more than 4,000 retailers worldwide. Rockline Enterprises makes licensed band t-shirts and other products available to retailers through their unique wholesale and dropship divisions.
Rock-n-Roll-Wholesale.com
Rock-n-Roll-Wholesale.com, the wholesale division of Rockline Enterprises, offers more than 10,000 licensed wholesale t-shirts and other items featuring music, movies, TV shows, and comics. By leveraging their partnerships with 18 of the largest U.S. manufacturers of these items, Rockline offers small and mid-sized buyers the opportunity to purchase from multiple manufacturers in a single order. Because Rockline works directly with manufacturers, most items can be purchased with no distributor mark-up and low order minimums. This levels the pricing playing field for independent retailers and allows them to sell the same licensed products as corporate chain stores.
According to Lundorff, music licensed products are the most popular items in their wholesale catalog. In 2015, "Johnny Cash t-shirts outsold any other band or product category we carry" says Lundorff. Classic rock merchandise from the Rolling Stones, Metallica, Led Zeppelin and Guns 'N Roses all sell well for his customers, too. The Rolling Stones have been an especially steady seller. "The tongue logo; it's iconic. Every order seems to have that shirt."
RocklineDropship.com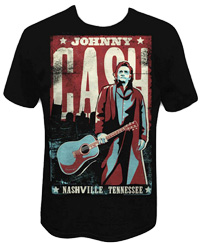 The dropship division of Rockline Enterprises offers licensed merchandise shipped directly from their warehouse in Minnesota. The catalogue is continually updated online, and features many of the same best sellers as their wholesale program. Their products are updated hourly, so retailers can be sure of accuracy. There are also inventory and image files available. In addition, Rockline offers preformatted files that can be uploaded directly into shopping cart software such as Shopify for an additional fee. There is no order minimum for drop shipping and orders are typically shipped within one or two days. Their unique catalogue, fast shipping, and no order minimum make RocklineDropship.com a popular option among EBay and Amazon retailers. "There is no other company in the U.S. drop shipping these products bundled with the technology and services we offer," says Lundorff, "We're proud that we can help smaller retailers compete."
Rockline Enterprises provides products from large-scale manufacturers, while offering small-business customer service. "It's just me and a few other guys," explains Lundorff. "We're still a small company. We answer the phone. We answer emails. We work with online and brick-and-mortar retailers, so we have to be fast and flexible." For more information and to view Rockline's products and services, visit their websites at www.Rock-n-Roll-Wholesale.com and www.RocklineDropship.com.