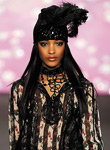 Twice annually, New York Fashion Week gives retailers insights into which looks will make the leap from couture to pop culture in the coming seasons. Femininity is in, and strong themes in apparel include sculpted silhouettes, ultra feminine hats and gloves, and flowing fabrics. As for color, retailers should stock merchandise in an array of romantic prints, deep blues, and scarlet, magenta and purple, along with black and white as a mainstay. Trending textures for 2013 include tweed, floaty chiffon and draping fabrics that accentuate curves.
Old Hollywood glamour is in the spotlight for fall with iconic classics, the body-conscious silhouettes of the 1940s, accentuated waistlines, flirty skirts, flowing blouses and slender pants are expected to be favorite women's fashions. Peplum skirts continue to be sought after as well. Menswear, especially suits, are on the slim side, and reminiscent of 1960s' fashions. For casual wear, consumers will settle into a new cozy chic, a blending of comfortable clothing such as sweatshirts, turtlenecks and mock turtlenecks with dresses or blazers. Comfy, oversized outerwear, for both men and women, is also expected to surge in popularity.
Beading, sequins, crystals and other eye-catching embellishments will, at times, create head-to-toe sparkle, while other fashions will use glitz to add a pop of visual interest and glamour. Oversized statement jewelry, as well as feminine touches such as brooches, will remain popular in fall and winter.
Ladies hats and gloves, a big trend in decades past, are resurfacing. Cloche hats, which are fitted and bell-shaped, sporty ball caps and round floppy toppers, will appear in a variety of colors and fabrics. Leather gloves in vibrant hues, as well as detailed with studs and stones, will follow the trends of bold and bling.
Expect to see neon pink, bright orange, lime green, teal, plum, aubergine and cherry red among the more trendy shades, either as accents to more subdued colors or as an all-over look. Jewel tones including ruby, sapphire and emerald continue to be well liked. At the opposite end of the spectrum will be neutrals, burnt sienna and olive tones. Floral patterns will also brighten ensembles this fall, and designers are still having fun with animal prints.
Romance and femininity are back this year in a variety of styles, colors and fabrics, and it's fashion forward as manufacturers take cues from New York Fashion Week. Retailers who offer shoppers an array of feminine designs and merchandise, in bold as well as in neutral colors, stand to sell.