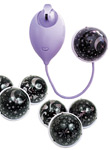 SolPals produces unique, high quality hybrid lighting products that are eye-catching and popular with consumers. One of its newest introductions, MoonBeam, is a solar powered hybrid nightlight that is easy to use and install. The user attaches the product to any window exposed to sunlight, and it charges during the day and automatically illuminates the room with a soft light at night.
All MoonBeams have the option to either use solar power only or to use built-in technology that uses the stored solar energy first, then automatically switches to two backup alkaline batteries. The solar cell will automatically turn the solar nightlight on at dusk and off at dawn, with the option of a manual on/off button. Being eco-friendly is very appealing to today's consumer, as is safety, and using a MoonBeam rather than a traditional nightlight eliminates fire and electrical safety hazards.
MoonBeam hybrid nightlights are available in two styles. MoonBeam full size, which wholesales for $14.98 and retails for $29.99, comes in sports, garden and starry night designs, and is available in an array of colors. It offers 12 hours of charge plus 100 hours of backup and includes one AA Ni-Cd rechargeable battery. MoonBeam mini projectors, also available in multiple colors, wholesales for $9.98 with a retail price of $19.95, and provides eight hours of full charge plus 24 hours backup. The mini also includes one AAA Ni-Cd rechargeable battery. The minimum order is four units per style/color, and drop shipping is available.
Where to buy: