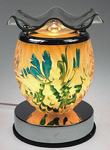 Louis Santoni and his wife Valerie founded L&V Creations after he finished a successful career in the satellite television business. The family owned and operated company wholesales fragrance oils, aromatherapy lamps, incense, and many more popular products. Louis tells Independent Retailer that he started his business after seeing an opportunity as aromatherapy just started to enter the mainstream market. Santoni invented his flagship product, the original plug-in aromatherapy lamp, to "help retailers selling oil and incense burners grow their sales." Santoni's vision was to offer a complete line of products and everything a retailer would need for a successful business.
This idea, known as the "L&V Concept" is a tried and true method for mall and cart & kiosk retailers. The signature plug-in aroma lamp is equipped with a dimmer switch for controlling light and heat intensity and is available in many different colors and designs. In addition to hundreds of different designs for their aroma lamps, L&V offers over 300 scents of oils including body oils, fragrance oils, and essential oils. L&V completes their concepts with incense, incense burners, soaps and lotions, and display options. Santoni takes great pride in helping his customers succeed, especially when they follow his L&V Concept. "We care for the small retailer. We want our partners to succeed. Many of our customers are able to make a good living by following our concept," he explains.
Innovation
One of the qualities that have allowed L&V to be so successful is their spirit of innovation. Ever since inventing the original plug-in aroma lamp, Santoni has made continuous effort to design, develop, and evolve his products and business. "We are constantly developing new fragrances, new products, and releasing new designs," says Santoni. For 2017, Santoni says they are working on new designs for their current products as well as new product lines.
Quality
Over time, L&V Creations has gained over 2,000 retail customers nationwide. "This doesn't happen by accident," continues Santoni. "We use high quality and high end parts that our competition isn't." For example, L&V double paints and double bakes their lamps to prevent color fading over time. Premium incense sticks are soaked for 24 hours to ensure long-lasting fragrance. Santoni explains that his company also individually inspects each lamp before they are shipped out to ensure the best quality.
Care
Santoni and his company are invested in helping the independent retailer succeed. Their products and concept are only available for independent sellers. L&V does not retail their own products or sell to box retailers. "We work hard to make sure our customers have room to grow and aren't facing direct competition," explains Santoni. L&V Creations also promise great margins for their customers. They leave the suggested retail price up to the sellers' discretion, but Santoni explains that retailers "can easily triple the wholesale price."
For new customers, Santoni will walk retailers through the L&V Concept, help develop an optimal opening order, provide training, and offer as much support as possible. L&V products can be carried exclusively or incorporated into existing inventory. For 2017, Santoni is expanding his warehouse to offer retailers even more products, designs, and inventory. "Once you become an L&V customer, we take care of you and protect you," says Santoni. "We treat people right, provide great quality, and great value so we can watch you succeed."
For more information on products, pricing, and ordering visit www.scented.com.