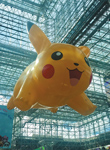 The Toy Industry Association's (TIA) 114th North American International Toy Fair brought 31,133 global play lovers to New York City February 18th – 21st, 2017. Retailer, suppliers, manufacturers, and inventors came together to preview hundreds of thousands of ground-breaking toys and games. 1,131 toy companies showcased their toys, technologies, entertainment and innovations over the equivalent of nearly eight football fields of space.
Toy Fair's upbeat atmosphere matched a burgeoning U.S. toy market, which grew five percent in sales last year. Though many national toy stores and brands were out scouting at Toy Fair, independent brick and mortar attendance was up by more than nine percent from last year. All attendees enthusiastically explored a vast array of skill-building toys and games, ranging from cutting edge robotics, drones, and active toys, to classic playthings like dolls, plush, and board games.
"Toy Fair 2017 was a resounding success," says Steve Pasierb, president and chief executive at the TIA. "This year's show opened doors for American toymakers to new and emerging markets around the world, brought exciting trends and play experiences to life, and unveiled inventions from talented inventors and entrepreneurs. Toy Fair is truly the epicenter of toys and games and a show unlike any other in the world."
During Toy Fair, the TIA also announced this year's top toy trends retailers should watch out for. According to the TIA, these are a reflection of the creativity, vitality, and ingenuity of the toy industry. Though many of this year's trends include innovative technology, classic play is also still very popular. Here are the top six toy trends to follow according to the TIA: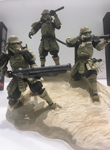 Collectibles 2.0
Collectibles were a top contributor to toy industry growth last year, posting 33 percent growth with $1.8 billion in sales. This category is expected to maintain its popularity throughout 2017. This trend includes basic and affordable collectibles, collectibles that have multiple play functions, as well as some higher-priced licensed collectibles with intricate styling details for the most avid collectors and passionate fans. Collectible toys help children develop lifelong skills, including social skills, when negotiating and trading with friends, organization skills -as they maintain their collections, and perseverance — not giving up on the "hunt".
Up & Active
Toys that encourage kids to get up and move — both indoors and outdoors — are on the rise. The latest active toys not only motivate kids to burn off excess energy, they are also engaging for the whole family and are more seamlessly integrated into other types of play. This trend includes tech toys that weave in active components, classic outdoor ride-ons, traditional games that incorporate physical activity, and digital toys that foster face-to-face play.
Technology Trends
Toy companies are continuing to innovate and think outside the box as they incorporate engaging tech components into their products. The good news for consumers is that technologies that were just emerging a few years ago, like 3D printing, have become a lot more affordable for manufacturers, making high tech experiences more readily available at realistic price points. This year we are seeing a surge in augmented and virtual reality toys, drones, virtual pets, robotics, and more. Most importantly, toymakers are successfully leveraging technology to enhance traditional play patterns rather than replace them.
Oh So Classic!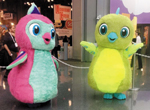 Along with their high-tech counterparts, low or no-tech toys with retro and classic styling and materials, like wood, will hold their own after a strong 2016. Last year, games/puzzles and dolls were among the fastest growing toy categories. This trend includes retro brands that are either reinvented or reintroduced for a new generation to enjoy. These toys are appealing to parents, grandparents, and kids, and are a great way to foster intergenerational play.
Movie Mania
Licensing has been a huge boon to the toy business for the past several years, capturing about 30 percent of total U.S. toy sales, and 2017 will be no exception, thanks to a wave of family-friendly movies hitting theaters. Expect to see licensed toys featuring popular characters and stories across every single category – including ride-ons, plush, action figures, and puzzles.
The trend in educational toys that teach kids important concepts like Science, Technology, Engineering, Arts and Math (STEAM), isn't going away. In fact, it's getting more comprehensive thanks to a slew of exciting and engaging products that ignite kids' curiosity. In 2017, expect to see Robotics incorporated into the trend — transforming STEAM to STREAM.