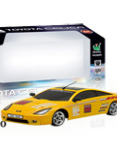 Licensed miniature model vehicles make up a category that is as competitive as it is popular with consumers. One of the companies experiencing great success selling them wholesale (for years) is Autotec. Specializing in model cars, but also producing many other types of related products, Autotec has proven that quality and integrity go a long way, both with the licensors and with retailers looking for saleable product.
The company went into business six years ago, and owner, Shermin Lin, was in the business of licensed cars and toys long before that. He was able to start the company with a lot of licensed products, contracting factories in China to manufacture them. His experience and longevity in the business has helped him hold on to some of the most prized licenses in the business.
"That's why we have a lot of Ferrari, Lambourghini, Toyota, Ford and General Motors products," he says. "It's not easy to obtain those licenses. The number one challenge is the competition, and there's also the up-front investment. We have to make it precisely to their styles and at the scale they want. These car factories don't want to just give out licenses to everyone. They are very selective, as far as the capabilities and integrity of the manufacturers that they work with. They have to be able to make it to the precision of their models, and the styles. They have to follow their instructions and guidelines, including the packaging and advertising materials. It has to be very precise, so it's not easy to obtain these licenses."
Lin has been working with Ford, General Motors and Mercedes since 1992, and those relationships have grown very strong over the years. At this point, he has a great deal of experience monitoring project development, and car companies know exactly what kind of products he is capable of producing, even with a factory that may not necessarily be familiar with the licensed products. "Even if the particular factory is not all that familiar with a certain license, I can monitor and help them," he says "I can give them guidelines on how to develop products. So with all that in mind, the companies know what kind of products I can produce, so they give me the license. The experience and knowledge really help."
Autotec sells its products to a wide variety of retailers, including department stores. But mainly, the buyers who do business with the company are collectible stores, hobby shops and gift shops. Collectors are always on the lookout for the items that Autotec produces. The Ford Shelby is a very hot item of late, as is the Mercedes SLS. And this year, Lin expects to have quite a few new models coming in, with many future hot items. In order to determine the best products to license, Autotec conducts extensive marketing research. It's important to determine what models are currently on the market, and which are not. Customer requests are also very important in terms of making these determinations, and Autotec gets a lot of them.
Recently, the Ferrari 599 XS model was introduced due to a large amount of customers asking for it. Part of the reason for this may be that the car itself is not currently available in the market. Once it is determined which models to pursue, Autotec then has to work with the license source, in order to get approval, and there is a lot of prep work necessary to start the project.
In addition to its very popular line of cars, Autotec also carries a lot of other popular and trendy products for stores and kiosks, such as the remote control helicopters that have been all the rage. Featuring lights, multiple channels of movement and gyroscopic controls, the helicopters are more technologically advanced than ever, and stay in high demand. "The prices are very good, too," says Lin. "It's amazing that we're able to make these kinds of products at these low prices, and offer it to customers."
Quality and pricing remain the hallmarks of Autotec. The company works directly with the factories to maintain impeccable quality control. Both the items themselves, as well as the packaging, are all closely monitored. The pricing is always competitive, and distribution is nationwide across the U.S. and Canada. "I also want to stress our service to all the kiosk customers and the stores," says Lin. "We back our products for the quality and also the competitiveness of the pricing structure, and we're proud to service customers nationwide. We're also very flexible; one case is our minimum order requirement. We welcome people to check out our website, or send us an email for more information."
For more information:
Autotec, Inc.
1936 Fairway Drive
San Leandro, CA 94577
Tel.: 510-618-1266
Website: www.autotecsales.com