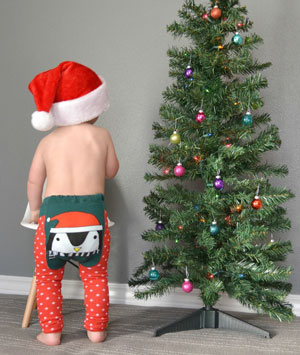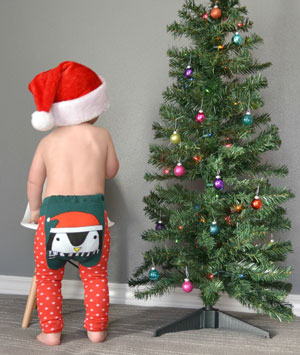 If you sell children or baby products, have attended gift trade shows over the past few years, or even just like looking at cute pictures of babies on Instagram, there's a good chance you've encountered Doodle Pants. Lorain Herder founded Doodle Pants in 2012 after she couldn't find any clothes for her son. The company now creates leggings, shirts, hoodies, bodysuits, dresses, and hooded towels for babies and newborns.
Doodle Pants are designed to stand out with colorful shapes, loud patterns, and most notably, playful characters. The "doodles" are animals, dinosaurs, and monsters with exaggerated features. Parenting is hard, but Lorain believes with the right tools, it can get a little easier.
"It's a lot easier to laugh when the object of your ultimate joy/crushing despair has a skateboarding dinosaur on his or her little butt." And who can argue with that logic? Doodle Pants are the perfect playful and practical gift for new parents and parents experiencing the "Terrible Twos."
New Holiday Collection
This year, Doodle Pants has a brand-new holiday collection including some of their best-selling designs from last year and six new holiday leggings "that have been really fun," says Lorain. Designs include maroon, grey, and royal blue Fair Isle Moose, snowflakes, and prints that look like Christmas sweaters in legging form.
Llama Drama
Lorain has also brought in new doodle characters. Somewhat unexpectedly, the llama designs have been flying off the shelves. "Llamas seem to be the 'it product' and the trendy animal right now," says Lorian. The top has ears and a tail, and the outfit completes with matching leggings. "It's only been on the market for a month and a half, and we've already had tons of reorders."
Horsing Around
In addition to their popular llama getup and holiday collection, Doodle Pants has also added a horse hoodie to match their popular horse leggings. "People love the matching tops that we 've added. Customers have been asking for them, so people are really happy that we now have more full sets," says Lorain.
If adorable toddler outfits adorned with one of a kind creature features are not enough, retailers have plenty of other reasons to get excited about Doodle Pants. "It's a go-to, super cute gift that you really can't go wrong with for birthday parties or baby showers. Plus, we have tons of gender-neutral products. They really are mommy-pleasers," says Lorain. "We haven't found anyone who doesn't think it's just the cutest thing ever."
Doodle Pants products sell at huge markup rates. Plus, "we're very flexible with retail clients when it comes to minimums," Lorain explains. "You can buy whatever sizes you want, so you're never stuck having to buy packs of sizes that don't sell in your store."
Doodle Pants products are easy to display in-store. The small toddler sizes take up minimal space if merchandised correctly, and the matching tops and bottoms create effortless display outfits. Lorain and her team are always coming up with new designs. Many of her retail customers place orders for immediate sale, so visit www.DoodlePants.com today to start stocking up on holiday merchandise.
Doodle Pants
www.DoodlePants.com
Instagram @thedoodlepants
Facebook @thedoodlepants