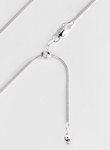 Azur Global Imports, an expert jewelry supplier for over 42 years, has recently expanded their silver jewelry to include sliding adjustable chains. Unlike the common style of adjustable chains that feature a clasp and multiple chain link holes through which the clasp is fastened, Azur's new line is not limited to specific chain links. There is a new bead-like mechanism with silicone inside that provides just enough friction to hold the smooth silver chain in place wherever the user would like. Walter Rozycki, owner and founder of Azur Global Imports explains, "This concept originated in the gold industry. We are just perfecting it and making it more affordable."
Over the past several years, silver has become more expensive. "This price increase in the industry allowed us to invest in the technology and process of making this mechanism," says Rozycki. Originally, the sliding adjustable chain was exclusive to the gold industry, because they had the means of financing it. Now, Azur has the option available for their silver chains. Even with the new technology and higher prices of silver, Azur's chains are still a more affordable option for retailers and consumers than traditional gold chains.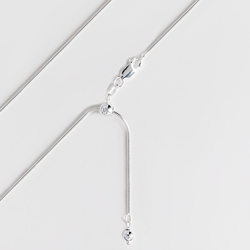 Azur's innovation debuted a few months ago, and "has been extremely popular," says Rozycki. "One of the tricky parts of wearing a pendant is choosing where you want it to fall. Many people will buy multiple chains for different lengths. Now, you can have just one chain with the flexibility to wear your pendant where you want it." Rozycki says these products are especially popular with women in their late twenties and up. "They tend to really appreciate the sense and flexibility of our new chains."
Azur offers over 20 different styles of their new chain. They are all sterling silver, some plated with rhodium. "The rhodium plating protects the silver from tarnishing and gives it a white gold look that is very popular," explains Rozycki.
Adjustable chains range from $7 – $29 wholesale. Rozycki advises that most retailers sell the chains between two and four times the wholesale cost. The minimum for orders is $60, and $5 flat shipping is currently available for all orders over $100. Most orders are shipped within one business day, and are guaranteed to ship within three business days. "We've have a 42 year reputation as being a great wholesale resource to the silver jewelry industry," concludes Rozycki. "We offer quality product with quick, reliable and friendly service at most competitive prices in the industry. Once people try us they keep coming back."
To view Azur's new collection, visit www.azur1.com.