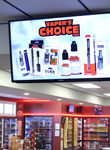 When Darren Schwartz and Doug Nolan, founders of FasTrax POS, found that their retail stores were in need of a specialized inventory system, they shopped around but never found the exact right fit for their stores. Taking things into their own hands, Schwartz and Nolan developed their own system, complete with a back end office price book, integrated inventory system, and modules customized for real-world retail needs. When other retailers in their field saw what Schwartz and Nolan were using, they wanted in, and FasTrax POS was born. FasTrax has continued to build products to include desperately needed applications for every retailer- including the company's latest offering: digital signage, the newest star in retail marketing.
"The great thing about digital signage is that it's a lightweight cloud-controlled system," says John Griffin, Director of Operations. "Each display has it's own box connected to it. You can really use any television or screen you want as a display, as long as it's a digital screen," Griffin continues. "These digital billboards are great for selling – you're getting people visually, because of the movement from the menu board and the colors in the boards, and it's all totally customizable for the user – the retailer. If the retailer has a particular brand or a color scheme or design scheme that they use in their store, the displays can be set up to reflect that, it's totally customized to the store."
Griffin explains the FasTrax digital display system offers retailers a completely customizable and easy to use promotion system. Retailers are given a series of digital templates that are easily modified and saved, allowing the retailer to promote nearly anything in their store. "The retailer can upload a product image, choose colors, or if they want to add a scrolling message on the bottom, they can do that, too," Griffin notes. "The system is really flexible so if you need to add in any type of regulation like an FDA warning if you sell tobacco products, we can get you set up with that, as well. There are landscape and portrait oriented layouts, there are animation movements like bouncing or shifting to draw shoppers' attention, too. Each menu item on the display screen can have different backgrounds or images and descriptions and pricing, as well."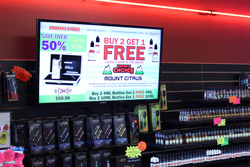 "There's nothing more eye catching than walking into a store and seeing a big television with movement on it. Shoppers love them. The digital displays can also run videos. If a retailer has a video or a product demo or their own commercial, they can be run on these display boards without a problem," Griffin continues. FasTrax also offers another feature that is not commonly found on digital displays: price flexibility. "The fantastic thing about the digital menu boards is that if you also run our POS system, if you change the price of an item on the back office in the price book of our system and your display is linked to the system, that display will update instantly. So if you re-price something that's featured on the menu board, you only do it in one place, there's no double work – it's just done. You control your price book and it updates the display instantly – and that's across multiple screens."
Additionally, retailers using the FasTrax system are also able to generate revenue using their digital menu boards. Griffin explains, "there's a section to push ads in the system. If you're working with a manufacturer or another vendor, this is a place a retailer can work with others to run an ad or to promote their brand in their store. Retailers can use this space – sell it – and recoup revenue – they can make money using the displays while at the same time educating their customers on products, sales or events they've got coming up."
The versatile FasTrax display boards are easy to set up and quick to learn. Backed by a strong Customer Support team, Griffin notes that FasTrax offers a one-on-one onboarding and training session to get retailers up and running, and he shares that new retailers frequently have their first board live in an hour or less.
Griffin is enthusiastic about the digital display's ability to help retailers promote their products and drive sales. "It's a low cost but extremely feature rich product," he states. "There are other products out there but they don't have dynamic pricing like we do, they don't have all of the design features, our set up process is so much easier than others, and the display is 100% the retailer's to do with it as they will."
For additional information on FasTrax POS system or to see a live demo of the digital display menu boards, please visit www.FasTraxPOS.com or call 256-319-3470.