by Steve Rowen, RRS Research
It's hard to fathom how quickly retail is changing as a result of smart mobile devices. Go back just a few years – to 2007 – and watch Steve Jobs' on-stage introduction of the original iPhone. Despite a boisterous crowd, while making announcements about Apple TV and a new iPod, the moment he first showed a slide of the "final" iPhone product, the audience sat in near-complete silence. Why? Because they didn't realize what they were looking at. Jobs calmly explained how the device needed a touch screen for its user interface, as a new world of "applications" would render keyboards and buttons useless in the near future – but the audience kept waiting for the slide to build to see what the device would look like. When it finally dawned on them nearly 10 full minutes later, the room erupted in applause.
How long ago does that seem now? Consumers started using smart mobile devices in their shopping endeavors immediately, and by 2010, they had completely rewritten the retail rulebook. It is no secret that retailers are no longer in control, and the question has quickly become, "What can we do to get back in the game?" As you can see from Figure 1, retailers know their best chance right now is to use these devices to drive traffic to their biggest investment: stores.
Source: RSR Research, January 2015
This is encouraging data. In fact, because this data comes from one of RSR's annual reports, we can look back through recent years' findings and pinpoint 2013/2014 as the time period when retailers stopped fearing mobile and, instead, started thinking about ways to harness its power. Two years ago we saw concerns about showrooming finally give way to desires to drive consumers into stores, and this pattern only continues to strengthen. For the best performers (Retail Winners), it is an even higher priority, and that just makes good business sense. Consumers are in love with their mobile devices; the best thing any retailer can do right now is think creatively about how to leverage that relationship. And with stores in such need of reinvigoration, it has the potential to be a match made in heaven.
The POS Saga
Retailers are also incredibly self-aware of how antiquated their Point of Sale systems have become. For years now they have told us that the prohibitive cost and hassle of replacing legacy POS systems just seemed silly at a time when so much technological innovation is taking place. As a result, many have chosen to "sit and wait" with what they already have in hopes that their POS systems will tide them over. They hope to leapfrog over the last generation of POS systems for a new, single-platform solution capable of tying their physical and virtual commerce operations together.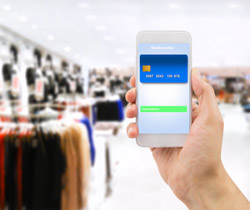 Although it is clear that the credit-card enabled tablet is not that device, retailers clearly see it as a welcome addition to ailing stores. It will not replace their traditional POS systems (cash wrap), nor will it yet solve their omni-channel woes (inventory) – but for the most basic POS functions, at least it's quick (Figure 2).
Source: RSR Research, January 2015
The Level Set Is Still A Long Way Off
The plain truth is that consumers simply got off to a massive head start with mobile devices. What, then, do retailers self-identify as the best opportunities similar devices afford them to catch up? The answer must come in two parts: one, how consumers use mobile tools and two, how retailers can "be there" in a similar capacity. Let's first look at consumer capabilities (Figure 3, below).
Source: RSR Research, January 2015
As it relates to what is valued vs. what is actually being used, it is clear that retailers have tackled the easiest components of the consumer's mobile experience, while not necessarily taking on those that consumers would likely benefit from most. For example: most retailers have made sure that their store locator feature, whether on mobile-optimized site or within an app, is functional. That's an easy play and is seen as table stakes at this point. But when you think about the role mobile devices play in the path to purchase, most shoppers aren't going to visit your site or open your app if all they're hoping to do is find a nearby store: a Google or GPS search is much handier for that.
If a consumer is going to your branded mobile offering, they likely have deeper needs – and retailers recognize that. It's why they don't even ascribe high value to the projects they've taken on. Modern retailers understand that it's time to start chipping away at the more high value/high reward components of a mobile offering. The question is when that understanding will convert into commensurate action.