by Meaghan Brophy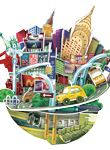 The mission of 3D Puzzle Place is to create an area where people who love puzzles and games can find everything together in one space. The company is a wholesale supplier and manufacturer of three-dimensional puzzles. 3D Puzzle Place has the self-proclaimed largest variety of 3D puzzles in the United States.
3D puzzles are popular with consumers of all ages, explains the company representative, and their product offerings cater to a variety of audiences. Buyers can search for puzzles by age group, theme, difficulty level, price, or brand. Some puzzles geared towards children have as few as 13 pieces. There are many educational varieties with animals, science, space, architecture, and history. 3D Puzzle Place's products are popular with daycare facilities and individual homes. They also have special product lines for museums, schools, and social studies exhibits.
There are also many puzzles with castle, dollhouse, and fantasy themes. "Creating is more than a fun thing to do when you're bored; it's a need," says a company representative "Video games provide fleeting stimulation, but bright kids need more than that. This is a tactile experience." The Rural Villa Dollhouse puzzle is one of 3D Puzzle Place's best selling items. It's 132 pieces, comes with decorative LED lights, and is one of the company's newer additions. "People of all ages really enjoy this one," continues the spokesperson.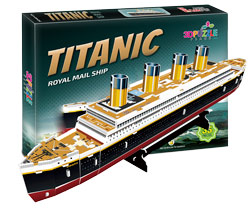 Advanced puzzles can have up to 400 pieces. 3D Puzzle Place has plenty of options for casual puzzle players and puzzle enthusiasts including landmarks, buildings, and ships. Some puzzles, including the popular Eiffel Tower complete with LED lights, can be up to three feet tall once completed. In addition to the Eiffel Tower puzzle, their large Titanic puzzle is actually 3D Puzzle Piece's bestseller.
3D is able to have the largest variety of 3D puzzles in the United States because they manufacture their own products. Their large inventory has puzzles suited for a variety of retailers. "We have many gift and souvenir stores who stock our smaller items, maybe ones that wholesale for $2," explains the rep. "They make a fun unique gift. We also have many boutique and high-end stores who carry our bigger puzzles with hundreds of pieces." The puzzles are also popular with toy stores, general merchandise, drug stores, and school and office supply stores. Different marketing and merchandising material is available for larger orders, including display shelves and stands. The company also recommends if you are carrying larger puzzles, to have one set up on display, particularly one with LED lights, to attract customer's attention.
In addition to having an inventory of over 350 items, 3D Puzzle Place has extremely competitive pricing as a result of their in-house manufacturing. Retailers are free to create their own resale pricing, but most sell at least two times the wholesale cost. 3D Puzzle Place strives to please all customers, and encourages all retailers to test their products. They are currently offering a special promotion of no order minimum for first time customers. To register a wholesale account, visit www.3DPuzzlePlace.com.