by Katie McBeth
Booksellers are passionate people.
Joining the Rediscovered Books' team in Boise, ID, was a surprise for me. After being in retail for 6 years I thought I knew what I was getting into. However, I was soon going to find that working in a small indie bookstore was much more than it seemed. Knowledge and passion were the cornerstones of the business and the book industry was constantly changing. Luckily for Rediscovered Books, bookstores are making a steady comeback. One of the main reasons for the surprising comeback is the adjustment to and use of modern technology to promote their brand, to grow their knowledge, and share their love of reading with their client base. It wasn't easy, but almost 10 years of loyal business has proven that passion and technology go hand in hand.
A Slow Start
Rediscovered Books created their Facebook business page in 2009. The employees were catching onto the fairly new trend of social media and after 3 years in business the bookstore was ready to get on board. Facebook was a huge benefit with scheduling events and interacting with customers. It was a whole new form of bookselling!
Jump forward another 5 years and the bookstore's online presence was in full bloom. There was hesitation at first – with growing store management concerns that they would lose touch with their older audience and alienate their less-tech-savvy staff – but eventually the "ok" was given to expand the bookstore's media presence even more in early 2014.
Instagram, Twitter, Tumblr, and Pinterest joined the fray of outreaching tools used to target and attract customers, and all have proven beneficial ever since. A benefit of having so many accounts linked meant one post on Instagram could easily be shared between all the accounts, making content creation noticeably faster and extremely convenient. It wasn't long before we started hearing from customers, "I saw this book on Instagram," or "I love your Tumblr!"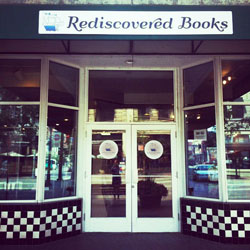 The move from simple online marketing to a more mobile-friendly cross-device marketing was necessary; although the store didn't know it at the time. Turns out, 2014 was the year mobile devices took over the Internet. Better yet, 2014 was the year of the bookstore's first book-banning scandal, and the store was lucky to have their social media presence already built up for it.
Making the jump to cross-device marketing was a huge benefit for the bookstore, not just in time management, but in online outreach as well. Increased numbers of new customers were coming into the store, and sales increased as a result. This directly led to the bookstore's expansion in the summer of 2015; the downtown space nearly doubled in size.
Constantly Adjusting
Despite the noticeable advantages of cross-device marketing, it did raise additional concerns. For one, the bookstore had to make sure they weren't 'spamming' customers. There are ways Facebook prevents that, but for other social channels, the store had to stay mindful of the amount of content they were producing and posting. It's a rhythm that is still being perfected.
Another problem that arose was keeping content fresh and engaging. No-one wants to get into a rut with repetitive content. #NewReleaseTuesday couldn't be a grid of four books every single week, it needed to get mixed up with video, gif, or staff excerpts about the books. Fortunately, booksellers are creative. Once the concern was noticed, the content adjusted accordingly.
As with any business – large or small – professionalism is always paramount. With a growing social media presence the employees that represented the bookstore during normal hours all needed to start representing the bookstore online too; both on the business' and their personal social media. This is a common concern for business owners, and it's a hard aspect to manage. Top-notch customer service must be a shared priority between the managers and staff for it to play out effectively.
Going a Step Further
Keeping up with marketing trends can really be the "be-all end-all" for small businesses. Sometimes it's a gamble if a trend is going to really pick up – such as the (unsuspected) decline of Google Glass, or the more recent push for Virtual Reality in marketing – but taking a chance is more beneficial to a business than letting technology get ahead of you. You'll never know until you try! Plus, there are increasingly affordable ways to keep up with the tech trends for small businesses.
Time will tell how the bookstore will fare in the future as it adjusts to the changing technology that surrounds us all. Yet one thing will always remain the same: indie booksellers are passionate about books, and will find the means to tell you about it.
Rediscovered Books
180 N 8th Street
Boise, ID 83702
Tel.: 208-376-4229
Website: www.rdbooks.org