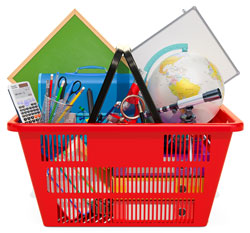 Total back-to-school and back-to-college spending reaching almost $83 billion in 2018. The numbers will likely be similar this year, as our economy is still going strong and consumer confidence is high. Shoppers purchasing for grade school students spend most of their budgets on clothing and accessories, followed by electronics and footwear, with the fewest dollars being spent on actual school supplies. Consumers purchasing for college students splurge on electronics, apparel, dorm furnishings, and shoes. Here is a breakdown of each of the best-selling back-to-school categories, products, and tips for how to fit them into your store:
Back to School Clothing
Last year, back-to-school shoppers spent on average $237 on clothing and accessories. Back-to-college shoppers spent $153 on average. In general, 91 percent of moms say that they spend more on their kids' wardrobes than their own.
Blue Jeans
Jeans make up a big portion of school wardrobes for boys and girls of all ages. Many kids wear blue jeans almost exclusively throughout the school year. As a result, they also make up a big part of each family's back to school budget, especially for growing kids that need new sizes. Jeans also tend to change styles each year. High-rise, looser-fitting jeans are now more popular for girls. Boys' styles consist of slimmer cuts and darker washes than in years past.
Outerwear
Winter is coming, and not just for Game of Thrones fans. The start of a new school year means cold weather is just around the corner. Many families use back-to-school shopping as the opportunity to stock up on warm layers like hoodies and sweaters, along with winter coats. Lightweight raincoats are also a popular option for the fall months.
Athletic Wear
More than half of high school students participate in team sports. The percentage is even higher for elementary and middle school students. Soccer, football, lacrosse, cheer, cross country, and other sports start up in the fall with the start of the school year. In addition to clothing to wear in the classroom, shoppers will also be looking for clothes to wear to practice.
Picture Day
During back-to-school shopping, many students are also looking to stock up on some of the latest styles for their first-day outfit and for picture day. To appeal to this group, be sure to have a few trend-forward tops in a variety of colors and sizes.
Back-to-School Apparel Accessories
Socks and undergarments are a no-brainer when it comes to back-to-school shopping. But, shoppers are also look for accessories like belts, low price-point jewelry and hair accessories. These can all be easily added into any apparel display or checkout counter.
Footwear
Back-to-school and back-to-college shoppers spend about $100 each year on footwear. Sneakers are the most popular and practical option. But, boots, flats, and rain boots are also best-sellers.
Back to School Electronics
Electronics is the area where back-to-college shoppers spend the most. On average, shoppers spend $209 on electronics. For many college students, laptops are a big one-time expense. But, other gadgets like external hard drives, power banks and chargers for cell phones, earbuds and headphones are all popular back-to-school purchases. The average retailer probably shouldn't start stocking laptops and tablets just for back-to-school season, but smaller impulse buys like phone accessories can easily be incorporated into point-of-purchase displays.
School Supplies
Though school supplies are the most obvious category, they actually draw the lowest dollar amounts in terms of average spend per shopper. However, just like small electronics, just about any retailer can incorporate small school and office supplies like novelty pens and pencils, planners, and keychains.