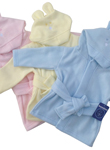 Bambini Infant Wear based in Orange County, California, offers a complete baby clothing collection of infant layette garments and accessories. In business for more than 25 years, Bambini has garnered a reputation for total excellence in the quality of its merchandise, dedication to customer service, and timely expedition of orders. The family-owned business continually focuses on expanding outreach and notability in the baby-clothing realm.
Bambini infant wear lines incorporate fresh, modern, fashion-forward prints, embroidered garments, and accessories for infants and toddler boys and girls. They use 1 x 1 rib 100 percent cotton, 100% cotton interlock, micro fiber, fleece, and thermal, organic cotton fabrics. Bambini pride themselves on updating collections every season with new fabrics, styles, and fashionable items.
Bambini is very focused on quality control. Their main objective is to offer retailers only the very best. Bambini works closely with the Consumer Product Safety Commission (CPSC) guidelines to make sure their clothing is safe and comfy for all babies.
All Bambini designs are created in their California office. The team works year-round and is constantly releasing new and seasonal products. Best-selling product categories include baby suits, infant sleepwear, hats, robes, hooded bath towels, and more. Bambini offers custom and private label infant garments. To view the complete collection, visit www.bambinilayette.com.