By IvyLee Rosario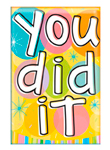 Expanding your retail merchandise always comes with the same set of questions: what do I want to sell next and how do I begin selling those items? In order to assist our readers in reaching their highest selling potential, Independent Retailer has created a monthly series called "Beyond Your Lines." Here we provide you with the best tips from experts in their selling categories on how to grow your business, what to expect from the merchandiser and what they will require from you, to ensure an effective and efficient exchange. Continuing our segment will be Judy Gillman, Co-Owner and Co-Founder of Stockwell Greetings (www.stockwellgreetings.com), who will shed some light on what it takes to begin selling our third category item: greeting cards.
Getting Started:
The topic of greeting cards may seem broad, but this way it will give you a chance to really think about what kinds of cards should be sold at your specific store. From birthdays to anniversaries, to graduations and parties, the category of greeting cards is not a simple one. So, with the help of our expert, the must know information on selling greeting cards will be right at your fingertips. There are several ways of going about purchasing new merchandise, but take into account these tips while growing your store.
Planning is one of the most important tips to remember when starting to sell greeting cards. With an array to choose from, you need to make sure you are marketing correctly, whether it is space devoted to the product or what displays to start with. "It is always a good idea to start with how much space is a retailer willing to give to establish a greeting card department," said Gillman. "If a retailer is truly serious about investing in a card department, I recommend starting with at least one to three 4-foot units, which is four to twelve feet of greeting cards. This setup offers a very nice assortment of all occasion cards, and conveys to the consumer shopping in that store that cards are an important product, not an after-thought."
Stockwell Greetings (www. stockwellgreetings.com) sells displays to their retailers with no contract, so that the retailer may keep the displays as their own property. Gillman also recommends that calling suppliers and asking questions is the best way of finding out which supplier will work best with your business.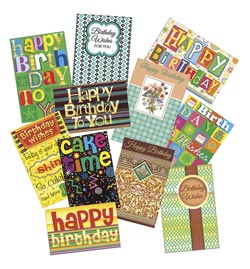 "This can take several phone calls, but a reputable company, as an expert in the industry, will be able to explain the entire process and leave the retailer feeling confident about a purchase from that manufacturer," said Gillman. "It is especially important for the retailer to know that they will always be able to receive ongoing assistance from the supplier."
When searching for the right supplier, it should also be one that will serve as a problem solver for your company. If you have merchandise that is not selling well in your store, the supplier should help you arrive at a solution. There is a large difference between merchandise being a non-seller and a slow-mover, said Gillman.
"If a retailer is located in an area where the demographics are more youthful, then obviously there would be no need to send that retailer a Happy Birthday Great-Granddaughter card.  It is about understanding the retailer's location, competition and demographics," said Gillman. "At Stockwell Greetings, we understand that customers like variety.  We sell units of six cards and six envelopes.  We do not think any retailer should have to purchase a dozen of the same design."
Mistakes to Avoid:
There will always be common mistakes and misconceptions retailers have when upsizing their merchandise. Here are a few to avoid and ways to correct them.
When expanding your merchandise, remember that the cost does not have to drill a hole into your wallet. "The most common mistake retailers make is assuming that they have to spend a lot of money to carry an great card line," said Gillman. "Stockwell cards are an American made product of high quality for an outstanding value."
Gillman also suggests having a specific employee assigned to the greeting card department in the store, that way it can stay neat and customers can find the cards they are looking for with ease. "Retailers who can maintain their card displays regularly will have the most success with their greeting cards," said Gillman. Lastly, remember to keep the card displays towards the front of the store instead of in the back so they are in a better line of sight and customers will know your store now offers greeting cards.
Keep in Mind:
Now that we have provided the tools and expertise on the greeting card business, it is up to you, the retailer, to go out and decide if this is the right merchandising step for you. Remember these tips when on your journey to retail growth.
• Greeting cards are a product that every retailer can carry successfully and profitably
• Remember location and demographics when choosing which cards to sell
• Holiday cards are big business, so make sure to include seasonal cards and order on time
• Dedicate sufficient space to your greeting cards displays so you will have a great assortment for all occasions