By Justin Hotard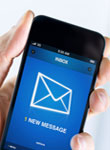 Small and medium-sized firms understand the importance of marketing in helping to grow their businesses. Catering to today's tech-savvy consumer requires small merchants to respond to this need with technology.  Fortunately, today's POS systems have built-in features that simplify marketing efforts, and minimize the need for exhaustive research and third party tools.
In recent years, larger companies have turned to geo-fencing and geo-targeting to send relevant messages and promotions to potential customers based on their exact locations. Some, especially larger electronic manufacturers, are spending thousands of dollars to research how to reach prospects at the "Zero Moment of Truth" – the point at which consumers start to research their future purchases.  Unfortunately, small businesses do not have the luxury, time or the budget to spend on elaborate research and technology.
Email marketing strategy built into POS
However, the good news is that small businesses often do not need to spend marketing dollars on such enterprise-like efforts. Rather than spending large amounts of money to determine the optimal time to reach prospects, small businesses can build customer engagement with an effective email marketing strategy, often built right into their POS. With email marketing, small businesses can reach customers via their preferred communications channel. According to CRM agency, The Merkle Group, 74 percent of consumers prefer to receive commercial communications via email.
Remember to do so consistently, by sending new customers a welcome email and checking in with less frequent customers by sending them a miss-you email. When incorporating email receipts into this process, businesses can reach out to customers immediately after the sale to thank them for their business, and provide valuable promotional information. This post-sale strategy may seem counterintuitive, but the focus on nurturing customers who already know and support your business is a wise and economical one. By some reports, it can cost 10 times more to acquire new customers than to retain old ones. Therefore, a post-sale marketing component is a surefire way to reduce marketing costs and reach a more likely buyer.
Make powerful customer connections at checkout
Using a mobile POS, users can quickly customize email receipts by including an image such as a business' logo at the top, while adding in important store details at the bottom, like the return policy. Email receipts also can include discounts and offers for future purchases, which can help drive repeat business. Additionally, including a "thank you" is a simple gesture that can go a long way in demonstrating appreciation and building customer loyalty.
Connecting with existing customers via email marketing is just one approach that doesn't require research and focus groups. With a little planning and customization, it can be a subtle, yet effective means to thank customers, and more importantly, give them a reason to come back again.