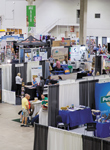 By nature, the retail business has ups and downs. The economy changes and trends go in and out of style. But over the past few years, the pet industry has proved almost infallible. According to Entrepreneur, the market has more than tripled since 1994, and is now a sixty billion dollar industry in the United States alone. This means in addition to an increasing number of pets that need food, shelter, and care, there are a growing number of pet parents who are spending thousands of dollars every year.
The Great Recession has proved that pet merchandise sales are not affected by economic downturns. The American Pet Products Association reported growth in pet ownership through the economic decline. The association also reported that pet-related purchases grew from $43.2 billion in 2008 to almost $53 billion in 2012. Now that the economy is turning around, people are spending more money on pets than ever.
In addition to a stabilizing economy, there are demographic reasons behind the increased spending on furry family members. Many Baby Boomers' children are out of the house, leaving parents to focus on their 'pet children.' Younger age groups are also turning their financial focus to their pets. Doug Poindexter, president of World Pet Association, says, "Millennials are waiting longer and longer to have children due to changing cultural mores and greater economic pressure. Pets are filling the gap that children may have filled in another era." Millennials are delaying having children, and instead are caring for pets. The age group, which makes up twenty-seven percent of the US adult population, is also starting to reach their peak spending years, and will eclipse the baby boomer generation in 2018 with $3.39 trillion in spending power. "The industry is growing each year with over three percent annual growth," continues Poindexter. "And I expect that to continue." It's more than safe to say that the industry is growing, with no sign of slowing down. No matter what type of retailer you are, many of your customers are pet owners or animal lovers, meaning there's room for everyone in this sixty billion dollar industry.
Finding the Right Merchandise
Whether you manage an apparel, general merchandise, souvenir, gift, pharmacy, or other type of store, there are pet and animal themed products that will appeal to your customers. This is evident in the increase in number of and attendee growth in pet industry trade shows. Poindexter discusses some of the biggest trends from SuperZoo 2016, the annual trade show that is produced by the World Pet Association.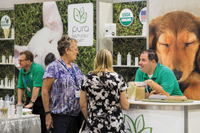 Apparel and Accessories
"Animal themed jewelry has been around for a long time. With the overall growth in the pet industry, it has become a staple in the business," Poindexter explains. SuperZoo hosted many return jewelry exhibitors, as well as vendors displaying new collections. For example, EcoSmart Designs, a retail industry veteran specializing in sustainable, Made in America jewelry, launched a new division of their company called All Pets World. The products include hand carved and hand painted necklaces, bracelets, and key chains featuring different dog and cat breeds and sayings. Eric Sherman, of EcoSmart Designs, says that the line has been a success. In fact, Amazon Prime almost immediately picked it up. Jewelry and key chains take up minimal square footage inside your retail space, and are a fun impulse item for shoppers as they search for one that resembles their favorite pet.
Pet themed clothing is another easy option for retailers to join in on the pet craze. "As far as clothing is concerned," continues Poindexter, "there has definitely been an uptick over the last few years. I attribute that to the popularity of dogs and cats and the fact that animal parents are more passionate than ever about their pets, and see them as a close member of the family." T-shirts and sweatshirts with animal designs and patterns are easy additions for apparel, gift, and community retailers.
Natural Products
"Natural products are very much a major trend in the industry," says Poindexter. The natural section of SuperZoo "Expands and sells out every year, speaking to that consumer desire for wellness, organic, and natural products." Pet foods and treats are of course top sellers, but there are many new and innovative products entering the market too. Supplements, aromatherapy, and anti-anxiety solutions are all becoming very popular. Pet products, especially ones that are natural or luxury, have great margins – some as high as seventy percent.
There are a variety of ways to get your business involved in this growing and profitable industry. Pet trade shows are a great resource for sourcing products and learn about new ways to grow your business.
SuperZoo
Every year, SuperZoo attracts more than 20,000 industry professionals, including 11,000 retail buyers and 1,200 exhibitors. The show has been named one of Trade Show Executive's Fastest Growing 50. "I think we have a fun and casual atmosphere," says Poindexter. "It's been ingrained in the culture of SuperZoo since the show first launched over sixty years ago. That's partially because we continue to serve the independent retailer, even with the expansion we've seen in recent years." SuperZoo will return to Las Vegas in 2017 at the Mandalay Bay July 24– 27th. For more information, visit www.SuperZoo.org.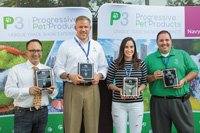 P3 – Progressive Pet Products
P3, short for Progressive Pet Products is a brand new show created by Urban Expositions. The inaugural event was held this past August 24– 25th in Chicago. The event hosted one hundred and ninety exhibitors and over one thousand retailers from across the country. "P3 Pet Trade Show gave retailers the opportunity to balance buying and learning with complimentary educational sessions including keynote speakers as well as the pop up conference sessions on the show floor offered by the Independent Retailer Conference," says Amy Dufour of Urban Expositions. The education sessions included winning business strategies, growth opportunities, customer service, and expectations of millennial pet parents. For information on the 2017 show, visit www.p3petshow.com.