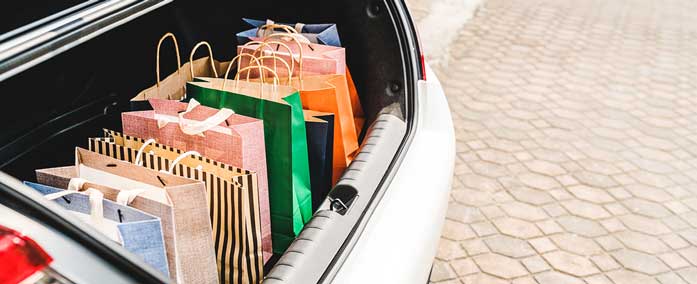 This holiday season, mobile may have stolen the headlines, but brick and mortar stores continue to steal the sales. Online shopping during the holiday season approached $125 billion. But, according to Adobe, 83 percent of holiday shopping was done in-store.
What may come as a surprise is that Millennial and Gen Z shoppers are leading the brick and mortar charge. "Compared to older generations, younger consumers under the age of 35 are more likely to be attracted by the social aspects of shopping over the weekend or by the fact that it is a family tradition," Phil Rist of Prosper Insights & Analytics said in an NRF release.
Feels Like Christmas
In an NPR article, one Black Friday shopper said, "It's just fun to be at the mall on Black Friday.., [there's] a lot of people. The vibe is always good and I'm a sucker for the holidays." Another shopper says, "I feel like during these times the spirit of everyone is tremendously high," he said. "The country seems down a lot. But times like today it's very high. So, it's a great day."
Cyber Monday and overall mobile sales continue to grow, but shopping in-store will continue to be an important part of the shopping experience. "There's a huge element of tradition," says Kit Yarrow, a consumer psychologist at Golden Gate University in a Popular Science article. Kit continues, "They want to be there. And for plenty, shopping isn't so much the end goal as it is a means of getting along with their families."
For many shoppers, hitting the stores on Black Friday is the unofficial kickoff to the holiday season. "'It doesn't really feel like Christmas until now,'" said Kim Bryant, to the Salt Lake Tribune, shopping in suburban Denver with her daughter and friends, lining up at 5:40 a.m., and then sprinting inside when the doors opened at 6am.
Buy Online, Pick Up In Store
An increase in buy-online-pickup-in-store (BOPIS) orders helped bring more customers to the stores this year as well. BOPIS is a great opportunity to attract customers that might not otherwise brave the Black Friday madness. Placing an order for something, and knowing for sure it will be there when you get to the store can ease a lot of Black Friday shopping anxiety. "Even consumers who shopped online made trips to retail stores with buy online pick-up instore (BOPIS) orders up significantly (73%) from Thursday to Friday," Taylor Schreiner, Adobe's Director of Adobe Digital Insights, said in a statement.
Independents
Independent retailers continue to find success over Thanksgiving weekend as well. Indie stores serve as a respite for shoppers who are "tired of box stores and no customers service," according to an article in Reporter News. Small Business Saturday raked in a record $17.8 billion that was spent at independent stores and restaurants.