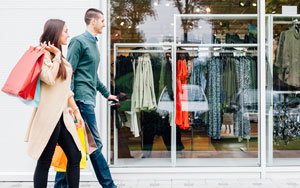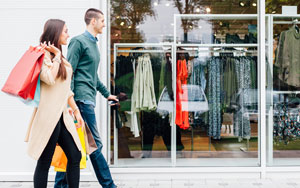 Small Business Saturday (SBS) was a record-breaking success during the 2018 holiday season. Total reported spending among U.S. consumers who said they shopped at independent retailers and restaurants on the day reached a record high of an estimated $17.8 billion. Based on the annual Small Business Saturday Consumer Insights Survey from American Express and the National Federation of Independent Business (NFIB), Small Business Saturday spending has now reached a total reported estimate of $103 billion since the day began in 2010. Business owners from across the country shared their personal Small Business Saturday success stories with Independent Retailer.
Local Activity
Robyn Dochterman, owner and chocolatier at St. Croix Chocolate Company in Minnesota volunteered as a Small Business Saturday Neighborhood Champion to bring her community together. "Our town is less than 700 people," Robyn says, "but I believed we could generate some interest in local shopping on Small Business Saturday, so I volunteered to be a Neighborhood Champion."
Instead of focusing on sales, Robyn coordinated an activity that the entire town could participate in, while also promoting local businesses. "I decided it would be fun to have each local merchant, organization, and family each decorate a Christmas tree in a little park that runs between a highway and main street. The City Council agreed to let us use the park and to let us use the electrical power at the park to illuminate a 60′ spruce tree. I got 30 trees at cost from a local farm and reached out personally to get as many folks involved as possible," she says. "While most SBS events are very focused on shopping, ours was a chance for locals to get together and do something fun. Each business was delightfully imaginative in how they decorated their tree," continues Robyn. For example, the local gas station made ornaments out of spark plugs and hose clamps.
"It was a delightful day of cooperative creativity, and it reminded us all that small businesses are really about the people behind them and the community they make together. We got a ton of positive feedback and townspeople are eager to make this a tradition."
Charity
Kelly Belknap, co-founder of Adventurist Backpack Co, used Small Business Saturday as an opportunity to give back to those in need. Year round, Adventurist Backpack Co provides 25 meals to families in need across the U.S. for each backpack they sell. But, for Small Business Saturday, "Instead of giving a large discount on any products, we had a deal to provide twice the amount of meals to families in need for each backpack sold," says Kelly. "Even though this isn't the traditional sale approach to SBS, we thought that being able to help more people would be a much better cause, and would strike a chord with our customers and focus on the season of giving instead of purely more consumption of goods." As a result, Adventurist Backpack Co was able to provide 2,500 meals over the Small Business Saturday weekend.
'Shopping Crawl'
In Philadelphia, three neighborhoods worked together to spread the Shop Small message. Kory Aversa of Aversa PR & Events LLC tells Independent Retailer, "East Passyunk Avenue Business Improvement did a small business shopping crawl including dozens of businesses with sales, specials, sips, samples and special events." The Old City District also did a shopping crawl and saw great results in their first ever major push for Small Business Saturday.
Philadelphia's South Street Headhouse District also put around balloons, "distributed literature and materials, and organized shopping specials for media to promote," says Kory. The day of Small Business Saturday, the neighborhood "did live social media and Instagram stories and spotlighted super interesting and lesser-known small businesses that were a great voice to give a listen to on Small Business Saturday."
The collective efforts garnished so much attention that Kory says Fox 29 in Philadelphia decided to run a three-week special on why you should shop local all season long — not just on Small Business Saturday. The shop local TV segments featured different retailers and gift ideas leading up to Christmas.
Lasting Effect
This past year, millions of shoppers nationwide shopped local on Small Business Saturday. SBS is a great sales day for small businesses, but perhaps more importantly it's an excellent opportunity to communicate the importance of shopping small. 96% of consumers who reported shopping on Small Business Saturday said the day makes them want to Shop Small all year long, not just during the holiday season. Mark your calendar for the tenth annual Small Business Saturday on November 30, 2019, and start organizing your small business community today.