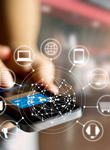 Are they a customer? No
According to a recent study by Accenture, there are four different business models that are shaping the future of digital commerce. The study looked at U.S. consumer appetite for new buying experiences and identified the business models that have the strongest potential to unlock growth. It found that retailers and consumer goods companies could unlock $2.95 trillion in value over the next decade by leveraging technology and new models to create new, differentiated purchasing experiences for consumers. Here's a look at the four business models:
Sharing Economy
This model provides services that allow multiple consumers to make use of or rent the same items. For example, companies such as Rent the Runway allow customers to tap into the possibility of not buying clothes for a one-time event, but renting expensive items for special occasions at a fraction of the cost and returning them afterwards. This conveniently saves the consumer money, but still gives them the opportunity to have a fabulous outfit for an event. The Sharing Economy model can be applied to many types of merchandise.
With these models, consumers prioritize convenience and experience over actual ownership. 37 percent of consumers reported that they would use a rental service such as Rent the Runway.
Personalization Economy
The second business model is Personalization Economy. This business model is already slightly more common than the others. Birch Box, which delivers a monthly subscription of make-up and Stitch Fix, which delivers monthly clothing boxes, are well known in today's retail market. Personalization Economy is a subscription to items of interest to consumers that are expertly selected to meet their individual needs and provide the customer with a "surprise."  32 percent of consumers are open to using a "surprise me" subscription service.
Replenishment Economy
This model involves smart sensors that detect when a product is running low. It then automatically reorders the item and it is delivered to the customer's door soon after. This would be perfect for necessary household goods such as soap, pet food, and essential groceries. Amazon offers "Subscribe and Save" options that give shoppers a discount on products when they sign up for automatic reordering. Amazon's Dash buttons are another example of replenishment models. Shoppers simply press a physical button to receive a new order of a particular product. 47 percent of consumers are open to using auto-replenishment for household goods. 43 percent would consider using it for fresh foods.
Service Economy
The final model allows consumers to outsource tasks and chores. Though for now its mostly humans, there is potential to have robots performing services such as the laundry or other household tasks for you. 35 percent of consumers would use a "do it for me" subscription for their laundry to be picked up, washed, folded, and delivered back to their door.
These four models are being tested in the marketplace now and will only develop overtime. Overall they will increase personalization ease of the digital shopping experience. With the amount of choice provided to consumers increasing, it is even more important for retailers to completely understand their desired target audience. Not only this, but retailers must be exceptional at the basic duties of their job. It will become more vital than ever that retailers excel when it comes to customer service and making sure the consumer feels special with a personalized experience. Digital technology can help in every aspect of this by personalizing the experience and perfecting individual customer service.
There is a plethora of new technology out there, but these technologies are not one size fits all. In order to advance and be a leader in this new digital world of retail, companies must start using technology now and figuring out which programs and models work best for them in order to fully develop their offerings and best serve their clientele in the future.