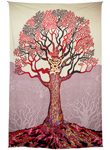 Sunshine Joy has distributed good vibe gifts and hippie lifestyle products since 1987, says founder Greg Burbank. The Rhode Island-based wholesaler sells products that are great for retailers in college towns, beach and resort areas, hippie stores, smoke shops, gift stores, and festivals. They also sell to national retailers including Urban Outfitters and Country Gifts. Over their years of business, Sunshine Joy has acquired many licenses, including Grateful Dead, Coexist, Woodstock, Pink Floyd, and many more. This August, Sunshine Joy returns to ASD in Las Vegas, bringing a curated selection of their best-selling merchandise.
3-D Tapestries
Sunshine Joy's most popular and innovative product is their line of 3-D tapestries. These tapestries are 60" x 90" and made out of hand printed silkscreen. The patterns and colors are mesmerizing on their own, but with 3-D glasses, "You have gone deep down the rabbit hole and into another dimension. It appears that you can get your hands behind the colors, and it's fun watching your friends do just the same." These tapestries are available in a range of traditional, modern, and psychedelic designs.
Hippie Tapestries
In addition to 3-D tapestries, Sunshine Joy offers hundreds of regular tapestry designs. Burbank tells Independent Retailer, their line of standard tapestries stands out from competitors because of the quality and intricacy. "Our main lines are made with heavyweight material and have loops on every corner. There are up to 11 colors on some of the designs. Most wholesalers usually have only three or four."
Sunshine Joy also distributes Heady Art Tapestries with high-resolution artwork digitally printed on 100 percent cotton fabric. This line includes art from Mike Dubois, Randall Roberts, Chris Dyer, Scarlet Aries and G. Scott B.
Tapestry Garments
These beautifully colorful wrap skirts are a unique flare for apparel and lifestyle retailers. They are made out of tapestry material and have hidden zipper pockets to keep essentials safe and secure. The skirts are easy to tie and fit a range of sizes. Burbank says they enjoy finding other creative ways to use their tapestry material. "Belt bags, fanny packs, and the wrap skirts" made out of tapestry material all sell really well.
Bandannas and Scarves
Sunshine Joy is also displaying their line of super soft bandannas and scarves at ASD. These products are pigment dyed and come in a variety of colors and designs including licensed Grateful Dead, Pink Floyd, and Cheech and Chong patterns. "Our bandannas are soft like your grandfather's handkerchief," says Burbank.
Though they will be displaying a curated selection at ASD, Sunshine Joy is constantly developing new products and new designs. Their brand-new 68-page product catalogue will also be available this summer, making its debut at the ASD show. For more information visit www.SunshineJoy.com or visit them at ASD July 30th – August 2nd at the Las Vegas Convention Center, booth N2125.