Recovering abandoned shopping carts is a critical element of any successful ecommerce business strategy. Traditionally, the only way to recover an abandoned cart was to contact a customer using information provided during the checkout process, such as an email address. This is a great option, and it does work if the customer has gotten to the point of entering his or her email address. Until recently, online retailers had no way to follow up with shoppers who abandoned their carts before providing contact information. Now there is Google Remarketing, a game-changing tool that enables stores to follow up with 100 percent of abandoned carts.
To use Google Remarketing, one must be engaged in a Google AdWords campaign. Following up on abandoned carts using this channel requires the addition of tracking code to the web store. In addition, three remarketing lists, or audiences, must be set up. One list will be for those visitors who added items to their shopping carts, one list will be for those visitors who actually completed the checkout process, and one list will be a combination of the first two lists for those who added an item to their shopping carts, yet did not checkout.
This can be accomplished by logging into the Google AdWords account and then clicking the "Shared Library" link, found in the left navigation. Once there, click the "view" link under the "Audiences" section.

The next step is to create an audience for each of the two visitor types; those who completed a sale and those who added an item to their cart.

One way to do this is to use a unique identifier, which is present in the URL after a visitor adds an item to his or her cart, or completes a sale.
An example of this can be found in the illustration below.

Once the two lists have been set up, it is time to create the main list that will allow targeting abandoned carts for those who do not provide an email address. This is done by creating a custom combination list, consisting of rules based on the two remarketing lists that were created in the previous step.

Set the criteria according to the illustration below, making sure that the logical operator "and" is chosen to link the two rules.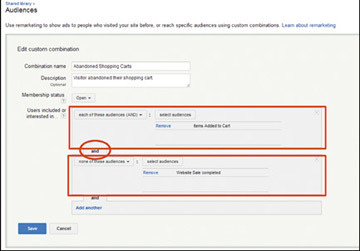 The final step is to create compelling image ads with a slightly different twist on prior advertising. Because these ads will only be shown to those visitors who fit into the abandoned carts list, the headline and message should reinforce the benefits they get by completing the purchase. The call to action might be "checkout now" or "complete your checkout." An example ad is shown below.

With the help of Google Remarketing and a little ingenuity, you can segment visitors who add items to their shopping carts, yet do not checkout, and those who do not provide an email address. As a result, you will have the opportunity to follow up with 100 percent of abandoned carts, converting lost sales into new revenue.
Eric Leuenberger is an ecommerce expert, founder of Ecommerce Amplifier, and owner of Voom Ventures, LLC, whose products and services help storeowners and operators increase traffic, maximize ROI, decrease expenses and increase revenue. He can be contacted online at www.TheEcommerceExpert.com, or by phone at 1-866-602-2673.