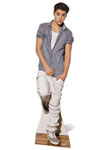 Life-sized cardboard cutouts and stand-in cutouts, manufactured and distributed by Star Cutouts, are a great way to liven up just about any event. "People use them as decorations, and to take pictures with at parties and other venues. They make great gifts and sell well in party, music, souvenir and gift stores," says Steve Hoagland, international licensing and sales director. "Consumers love our products because they can display a favorite character for fun, or to make a statement and get a conversation going. They are life-size and lifelike. People have told me many times that as they walk by, the cutout's eyes follow them. They are mesmerized."
Walking Dead stars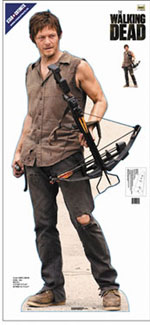 Star Cutouts was formed in England in 2005, and now has a U.S. wholesale branch geared to American retail sales. Numerous designs are now available, and more than 300 images, many of which are licensed, will be offered by the end of 2013. "We recently came out with licensed Walking Dead cutouts," Hoagland reveals. "Darryl Dixon is our number one seller, and the next most popular is Michonne. Fans can be quite competitive, and there is a difference between being a fan and the fan. If a consumer takes his friends into his room and shows him a cutout of Darryl Dixon, he becomes the fan." Walking Dead products will soon be available in stand-in forms, as well as regular cutouts.
Other popular items include a Halloween character named Vamprilla, the Royals and President Obama. "The President is always popular, because people either love or hate him," Hoagland reports. Another top seller is the cutout of Justin Bieber in a checked shirt. "We also just introduced a new picture of Bieber taken when he was on tour in Birmingham, England, and we expect it to be equally popular. The Chippendales are another big hit."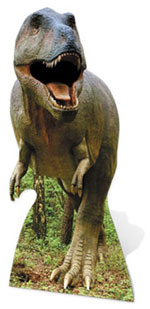 Cutouts are available in a variety of categories, including Animals, Great Britain, Hollywood & Casino, International, Seasonal, Wild West, Celebrities, Judge Dredd, Party & Props, Sports and more. Stand-in cutouts are often designed for two, in such motifs as Hollywood, wedding, pirate and disco couples. Single options include muscle woman, muscle man, Father Christmas and superhero. For gearheads, the firm has car stand-ins in various colors and sizes. Cutouts and stand-ins are delivered tri-folded with an attached easel. Star Cutouts also sells several face masks of personalities such as Justin Bieber, the Queen of England, a zombie, Father Christmas and Rudolph the Red-Nosed Reindeer.
Buying details
Cutouts wholesale for $15.50 and retail for $34.95 and up. Stand-in cutouts wholesale for $18.50 and retail for $39 to $44.95. The minimum order is ten pieces, and shipping is free on purchases of $500 and up. Orders ship within two to three business days from Star Cutouts' California warehouse, and drop shipping is also available.
Star Cutouts LLC
640 Bailey Road, Ste. 142
Bay Point, CA, 94565
Tel: 925-322-4901
Website: www.starcutouts.us