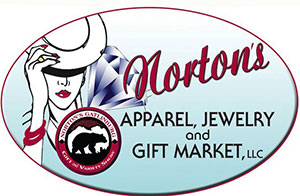 The Norton Shows all season wholesale trade shows are held quarterly in Tennessee's state-of-the-art Gatlinburg Convention Center. Since 1987, they have been the go-to wholesale market for apparel, jewelry and gifts, drawing attendees from all 50 U.S. states, Canada, Central and South America, and the Caribbean Islands. The upcoming market will be held November 16-18, 2013, and more than 21,000 buyers and 500 exhibitors are expected. "Our theme surrounds the idea of being home or going home for Christmas or, as we are in Gatlinburg, an old-fashioned Gatlinburg Christmas," shares Linda Norton. Tom and Linda Norton own the Gatlinburg Apparel and Jewelry Market LLC, and their daughter, Nikke Norton, is the sole proprietor of Norton's Gatlinburg Gift and Variety Show, LLC. The two shows are always held concurrently, to offer attendees a wide range of quality products in one convenient location.
Local artisan works on display
"Gatlinburg is fortunate to have one of the largest crafts centers in the U.S., and certainly in Appalachia. We are inviting perhaps ten local craftsmen from whom we purchase to participate, and we are using their merchandise to decorate the halls. Their items are so unique and invoke a distant time period," Norton explains. "The Norton Shows are not a craft show, neither do we wish to infringe upon our friends who are craft show promoters, so we will tread lightly. We are returning to our roots, and we want everyone to have the opportunity to experience this and know how people used to decorate years ago, and how some of us still do."
"We want to please retailers who want the very latest fashions as well as those who want things that have an old world feeling."

Linda Norton
Much like the retail store, Anthropologie, the Norton Shows have various goods for all ages. "Anthropologie is an extremely fun, well merchandised property, and it has items for every generation, from embroidered tea towels to modern and ethnic clothing. That is our goal as well," Norton points out. "We want to please retailers who want the very latest fashions as well as those who want things that have an old world feeling. An exhibitor at our June show had sterling silver spoon rings like my parents sold years ago in their antique shop. Spoon rings are very popular as they remind us of a precious earlier era."
The Norton Shows' wholesale cash and carry policy is important, because merchants can stock their stores with the freshest items without waiting for shipments, she adds. Furthermore, buyers will not find themselves with an overload of inventory, because there generally are no minimums. "Many times people call before the show is over wanting to reorder because they have sold the items they purchased just a few hours prior," Norton states. "Our exhibitors do very well. They also report large re-orders throughout the year."
Elvis tribute artist returns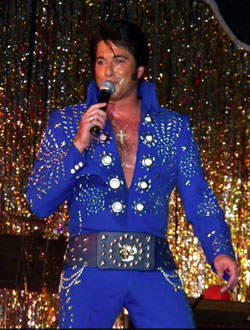 In addition to quality merchandise, entertainment is important to the Norton Shows. The November show will include the reprise of an award-winning Elvis tribute artist, a gentleman playing the dulcimer, and a jazz pianist. "I want everyone to leave happy, fulfilled and satisfied with the merchandise they purchased and the connections they made. We want everyone to have a great time and leave with their expectations fulfilled," Norton continues. "We are moving into the holidays, and exhibitors must have what retailers need. Retailers must buy smart and purchase items that will move and turn a profit, ending 2013 in the black. Why not put a smile on people's faces while they do that?"
Marketing the show to draw both serious buyers and sought-after suppliers continues to be a priority for the Nortons. The promoters still send out invitations on postcards, as well as a huge email blast, and they have expanded their advertising campaign and social media outreach. "What we will do in our buyers' letter on Facebook and in person is ask attendees which suppliers presently are not at the Norton Shows that they want to exhibit. We will ask buyers to contact those companies, and we will then follow through with a personal call telling them buyers want them at the Norton Shows. We want to meet our buyers' needs," Norton stresses.
Sneak peek at new endeavor
To that end, the Norton Shows is working on an exciting new project that will be unique to the wholesale market, Norton reveals. "It is a formal, first class deal that will be incorporated into one of our four shows each year." The venture will take two years of planning and promotion, and is tentatively scheduled for a 2015 launch. "It is a tribute to my parents, who owned and promoted antique shows around the south. Tennessee's governors came and opened my mother's and father's shows," she recalls. "I'm very proud of that and this project will emulate things my parents did. We learn from the past and incorporate good ideas with modern opportunities and technologies. Isn't that what a successful business is all about?"
The Norton Shows
P.O. Box 265
Gatlinburg, TN 37738
Tel.: 865-436-6151 or 865-436-6158
Website: www.nortonshows.com