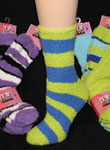 Now is the time for retailers to stock up on winter and holiday socks, essential items that virtually every consumer needs. Alabama Wholesale Socks specializes in and manufactures a vast line of socks for men, women and children, at its 36,000 square foot facility in Sylvania, AL. "If retailers are not carrying socks, they should seriously consider doing so, because they are an easy sell and offer hefty profits," says owner Tommy Evans. Alabama Wholesale Socks offers retailers profit margins of 100 to 300 percent, depending on the product and market. One of the company's more popular items is the men's colored heel and toe crew sock, which wholesales for as little as $6.40 per dozen for a 15 dozen quantity, and retails for $15 to $24.
Many of Alabama Wholesale Socks' products are made of cotton, as it is still the most popular fabric for socks and underwear, Evans notes. In addition, the firm manufactures merchandise in several other popular fabrics such as wool, acrylic and different polyester blends. Alabama Wholesale Socks is continually expanding its product lines, and announces new product introductions and specials on its Facebook page, as well as via email and text blasts.
Ruggeds brand expanded winter line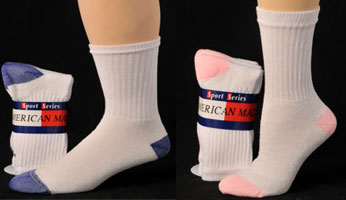 The company is now rolling out the winter line, which includes several new styles under its Ruggeds brand. "We are introducing wool and wool blend thermal boot socks, and several acrylic blend crew and tube boot socks," Evans shares. "We expect them to be very popular for cooler weather and the holidays. They are good quality products that offer retailers name brand recognition." They will be available in 2, 3 and 6-pair packs. Alabama Wholesale Socks also recently added a new, extra comfort diabetic sock to its Physician's Choice line. "It has much more give, to accommodate folks who have issues with swelling and edema in their lower legs," Evans explains. "It is becoming a very popular item very quickly." The firm also does custom work for several companies and retailers that have their own brands. While the vast majority of the Alabama Wholesale Socks inventory is hosiery, the company also sells tee shirts and boxers, so customers can fill both their sock and underwear needs at one location.
History and buying details

Alabama Wholesale Socks was launched in 2002 when Evans bought an existing wholesale sock business, which he rapidly evolved into a manufacturing business. "Most manufacturing was being outsourced overseas, and American made socks were becoming more difficult to obtain," he recalls. "We had the expertise within our family to run a manufacturing business, so instead of buying imports, we decided to buy the equipment and manufacture our products ourselves."
Alabama Wholesale Socks has a minimum order of one dozen pair of socks in one size, style and color, and drop shipping is available on most products. The firm recently updated its website to make it more user friendly, and to provide customers with a better online buying experience. The website offers better navigation and easier product search, and retailers can browse by several parameters such as size and color. The site also offers a one-page checkout. Retailers are invited to create a wholesale account today.
Alabama Wholesale Socks Inc.
158 Industrial Dr.
Sylvania, AL 35988
Toll Free: 866-61 SOCKS (76257)
Tel.: 256-845-4411
Website: www.bamasocks.com