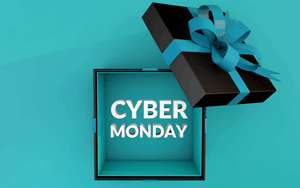 by Kenny Tsang
Black Friday and Cyber Monday are back with a bang, and experts project sales from the global shopping events to boost what has been a record $4.89 trillion year for retail ecommerce. Nearly a third of the year's holiday spending occurs during this short period, giving sellers on sites like Amazon, eBay, and Rakuten ample opportunity to capitalize on the growing number of price-sensitive shoppers.
This year's e-retail forecast is up 14 percent on the $4.2 billion total last year, and the percentage of ecommerce as a total of worldwide retail sales is also up, from 18 percent to 20 percent. Never has the opportunity been greater for retailers to exceed their profit targets by reaching a larger number of consumers.
Perfect Your Supply Chain Strategy
Acute supply chain shortages are threatening the product fulfillment of online sellers across America. Recently, the United Nations Conference on Trade and Development (UNCTAD) warned of consumer price rises due to sustained logistic issues, and U.S. warehouses are reporting a shortage of space that amounts to 300 million square feet. On top of this, the vacancy space at warehouses in Los Angeles, the largest port in North America, is currently at one percent — fifteen times lower than standard levels.
Supply chain issues are tumultuous for retailers at the best of times, but ensuring the fulfillment of their inventory is paramount in a busy season. Revenue hinges on the visibility of an online business, and if a merchant is out of stock, their web page ranking can plummet, diminishing the consumer footfall of their site. To ensure this does not happen, forward-thinking sellers should prioritize a diverse and trusted chain of suppliers from across the world. Sellers must be prepared to meet the mercurial demands of a modern customer base looking for instant online shopping delivery. Therefore, it is essential that businesses underpin their supply chain with tech-enabled tools such as savvy inventory management, which enables sellers to keep on top of trends, pivot product lines, and manage inventories with dexterity.
Delivering locally should not exclude international thinking, and utilizing cross-border payment methods allows online retailers to journey into new markets. Cross-border payment partners can also support sellers in consolidating supplier information in a single, self-service platform. The transparency and knowledge this provides can be invaluable, especially when faced with laborious paper trails.
Enrich Your Seller-Supplier Relationships
Successful relationships are being forged every day between businesses thousands of miles apart. However, speed and efficiency are imperative components in building trusted seller-supplier networks. Traditional, international bank payments can take an average of 66 days to be processed and incur a host of charges often unknown to either party. If suppliers have difficulty collecting invoices, they could be financially restricted, and mutually respectful relationships can become stretched or even severed. Thus, forming productive working relationships with international suppliers is an outstanding way of creating business growth and longevity.
Payment processing service providers act as a virtual bank account — one that is registered and regulated by reputable financial institutions. One of the reasons merchants have issues with liquidity and capital realization is the lack of control over that cash flow. Cross-border transfers from popular ecommerce destinations like the U.S. and China are instant and convert payments into a supplier or seller's local currency while curbing foreign exchange fees. This method of conducting international business alleviates unnecessary administration costs for businesses and allows additional capital to be spent more wisely.
Black Friday and Cyber Monday will remain a permanent fixture in the ecommerce calendar, and failing to prepare for the challenges they pose is preparing to fail. Therefore, independent retailers must opt for faster supplier pay, grow supply chain stability, and venture beyond archaic payment processes into a modern payments infrastructure.
Kenny Tsang is the Managing Director of global FinTech PingPong Payments.