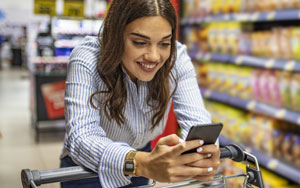 by Rebecca Brooks
The modern shopper journey has transformed so drastically over the past few years that the company Alter Agents decided that the shifting shopper landscape was ripe for study. Ultimately, they conducted a national survey earlier in 2021 asking respondents about how they go about their shopping.
The research surveyed 6,000 recent purchasers who had made a purchase in one of six product categories and about how they came to buy that item. From those purchasing packaged coffee all the way to those making larger purchases such as home fitness equipment, Alter Agents saw that behavior is definitely changing and that it varies greatly from category to category.
Shoppers Do Research Before Making a Purchase
During the research, the company wanted to dive into how consumers gathered information before making a purchase decision and the level of influence each information source holds over the customer. For example, they found that home fitness equipment shoppers carefully considered these purchases, with respondents more than likely to say they always research purchases online before buying versus lower percentages of shoppers in other categories.
In fact, these shoppers consulted a whopping 24 different sources before they made a final decision. That is 24 places they check for information before buying a yoga mat or set of dumbbells. The most valuable sources of information for this group, defined as those sources that are often utilized and often cited as being influential, were word of mouth, online searching, and social media. Shoppers in this sector really turn to their networks for product recommendations and reviews — it is not a solitary shopping journey.
That is just one example of the intricacies that the shopper journey is taking in this "new reality." It directly contrasts with, for example, pet product purchasers, who are less likely to do pre-purchase online research, with about three-in-four deciding which treat or supplement they are going to buy within one day and often making the decision in the moment. Even coffee shoppers, whom one might consider to be more loyal, identify as impulsive shoppers (42%) and are more likely to be swayed in the moment.
Advise Your Customers Along Their Research Journey
These widely varied shopper groups provide both opportunities and challenges for brands, depending on the vertical space in which they operate. Targeted consumer research that garners insights which go well beyond "brand loyalty" and finds out where consumers are today, and the context in which they are making decisions, is critical. The right insights that show when, where, and how your purchasers are making decisions can help to advise:
Messaging:

Should you keep it simple and repeat it across ads, packaging, and other sources to boost recall? Or should you focus your efforts on more in-depth information displayed at the most influential source for decision making?

Sharing:

If your audience is making decisions based upon word-of-mouth and peer recommendations, then you should focus efforts on making sharing the experience online easy for customers. Engage with them on social media channels and put out a positive vibe. If word-of-mouth is not a huge influencer in your category, perhaps you shift focus to other marketing vehicles.

Availability:

For any brand, it is vital to remove obstacles and barriers to purchase. Good consumer research can tell you exactly which channels you should be available on, as well as advise the type of information you should provide, such as virtual reality or video to enhance the online experience (which Alter Agents found was important for categories like home furnishings).
Rebecca Brooks is an entrepreneur, columnist, and mother with 20 years' experience in the market research industry. As Founder and CEO of full-service market research consultancy Alter Agents, she feeds her inherent curiosity by uncovering the complicated paths today's consumers take to help clients make better decisions every day.