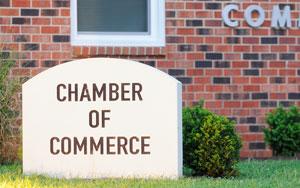 by Actual SEO Media, Inc.
Thanks to the growth of large, multinational corporations and their influence on American consumerism, small businesses need all the support they can get if they hope to flourish in today's climate. Joining a Chamber of Commerce can yield numerous opportunities for smaller companies to market their brands and exchange ideas with like-minded members of the business community.
Actual SEO Media, Inc., a Houston digital marketing firm, describes the ways that business owners can benefit from joining their local Chamber of Commerce:
A Good Support Network is a Key Ingredient for Growth
Chambers of Commerce exist across the country at state, city, and local levels. Essentially, these organizations work to promote the interests of businesses within their respective communities, and they provide their members with benefits and resources that enable them to grow their brands. One of the perks of joining a local Chamber of Commerce is connecting with other business owners within the community. Members can network with each other more efficiently, creating more opportunities for smaller companies to market their services to each other.
Besides a higher networking potential, local Chambers of Commerce also offer small business owners the chance to learn from other members and exchange ideas. Some chambers even offer educational resources like workshops with trade experts, and members can always get in touch to discuss relevant topics or trends in their industries.
Capitalizing on New Marketing Opportunities
Many Chambers of Commerce are active in their communities and regularly host or sponsor events. These venues present great ways for small business owners to market their services and increase their brand's visibility. By taking advantage of these community events, Chamber members can network with fellow business owners and become acquainted with potential customers.
Chambers of Commerce also ensure that their members can quickly get in touch. Business owners who wish to contact other companies within their community can always access their Chamber of Commerce's member directory, which contains a list of local businesses and their contact details. This resource is also available for consumers, as some people prefer to support businesses within their community.
Joining a Chamber of Commerce can Increase Community Trust
Chambers of Commerce have developed a reputation for being pillars of the community. Because of their involvement in local affairs, businesses involved with a Chamber are sometimes perceived as being more trustworthy. Aside from the benefits and resources that come with a membership, joining a local Chamber of Commerce can also help small businesses improve their brand's image.
With more competition than ever, smaller companies should be taking advantage of every resource at their disposal. As the business landscape continues to change, joining a Chamber of Commerce is an effective way for small businesses to grow their networks organically and improve their presence within a community.