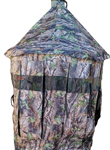 Cooper Hunting was developed for one reason: to change the way people hunt and think about hunting. "Fellow hunters and outdoorsmen understand it's more than just a hobby: it's a passion," says Dan Cooper of Cooper Hunting. His company is dedicated to providing quality, original hunting products. "When someone buys from us, they're not just buying our products, they're buying our promise," explains Cooper. "We vehemently stand behind our products. Customer satisfaction is our main priority." For 2017, Cooper is recommending two of his most innovative and best-selling products: The Big Tom and Chameleon Hunting Blinds.
outdoorsChameleon Hunting Blinds
In 2005, Cooper created Chameleon Hunting Blinds, a unique hunting blind that can be used in any hunting situation. It can be used for ground or tree hunting with both guns and arrows. "The waterproof blind weighs just five pounds and can be easily packed up into a backpack," says Cooper. "Yet the blind is big enough to stand up inside. This versatility is unique from any other blind out there." Chameleon Hunting Blinds can be added to any existing tree stand. Features such as roof straps, a weighted base, drawstrings, adjustable straps for window leveling, and a black liner to prevent shadowing mean the blind can provide camouflaged concealment almost anywhere in just three minutes.
The Big Tom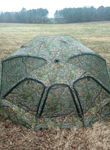 "The Big Tom is the ultimate blind for running and gunning those gobblers," says Cooper. This blind is large enough for two hunters. The strategic window configuration allows the caller to watch behind a mesh window while the hunter takes their shot from an open one. "The blind is very lightweight and installs in seconds," continues Cooper. "Simply open like an umbrella and set in place." The Big Tom comes with a carrying back, brush ties, heavy-duty two-way zippers, and inside pockets.
Cooper Hunting has a twelve-year history of success. "We offer 100% warranty on everything we sell," says Cooper. "We have had less than one-tenth of one percent in returns on our hunting blinds." Wholesale orders on Cooper Hunting products can be placed through Ohio Knife. Opening orders have a low minimum and free shipping is available for qualifying orders.
For more information, visit www.OhioKnifeSales.com.