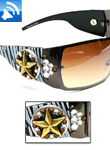 Western themed products were popular during the late 70s and early 80s, while Western Express, Inc., planted its roots in a suburb of Pittsburgh, PA. Over 30 years later, the wholesale distributor of country western products continues to make significant sales. Like many suppliers, the recent economic downturn made Western Express more disciplined, targeting its investments in both Internet and magazine advertising to bring in new customers. Continuing to offer high quality, long term products, however, is what keeps old customers coming back for more. Dan Mottsman, CEO, notes, "Staying with our western theme works for us. And we tend to be long term in our outlook with things that sell." Among these long term sellers are hats wholesaling between $1 to $30, belt buckles offered for $6 to $32 wholesale (most in the $8 to $10 range), as well as shirts, jewelry and more, which retail for at least keystone.
Western Express Carries on the Country Western Craze
While the array of products may incorporate a general country western theme, customers can also find licensed products such as John Deere, Ford and Jack Daniels. Mottsman adds, "We are always introducing new products to market such as new belt buckle designs, western jackets and our western style sunglasses." The recently introduced UV protection sunglasses add some country fashion to any look. With the use of Swarovski Crystals and western logos, Western Express' sunglasses are a perfect summer accessory. Each pair comes with a microfiber drawstring sleeve in a hard case, available between $24 to $33 wholesale. Most importantly, the products offered by Western Express are meant for men, women and children, leaving no country western fan excluded.
As the company services customers in all 50 states and worldwide, Western Express works hard to expedite orders and can usually ship an order within three business days. With a low $125 minimum, customers can mix and match their order. The company prides itself on its customer service, as proven by the many satisfied customers who have worked with the company since its inception and continue to place orders.
For more information:
Western Express Inc.
300 Villani Drive, Bridgeville, PA 15017
Tel.: 412-257-5020
Website: www.wexpress.com