By Kevin Zimmerman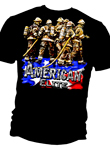 Standing out in the crowded t-shirt market can be a challenging proposition, but it is one that New Jersey-based wholesaler Erazor Bits has met time and again, thanks to some fortuitous timing and president Khalid Shehady's ever-evolving strategic thinking.
"When we started 21 years ago, it was just a small store in Long Beach Island," a resort town along the Jersey shore, Shehady says. Erazor Bits soon began expanding by signing licensing deals with established brands and by identifying underserved niches like police and fire departments. "They were usually very simple designs for local departments," he says, "with maybe one or two colors. There was nothing very creative out there."
The company now offers a full line of multi-colored t's, long-sleeved t's and hooded sweatshirts featuring high-impact graphics and messages such as "Don't Tread on Me," "Boston Strong" and "Home Is Where You Hang Your Hat," featuring images of fire helmets and coats on a rack.
The same approach is taken with its EMS and law enforcement categories; the latter also includes a line of mugs, tankards, pint and shot glasses. "Our public service stuff does very well for us," Shehady says. "In our military line, the Marine Corps shirts do best, followed by the Army and the Navy." He adds that themed logo decals – available in the fire/police/EMS lines as well – are strong sellers also. Erazor Bits expects to finalize several more high-profile licenses in the coming months; while he declines to identify them by name, Shehady says that many revolve around "TV topics."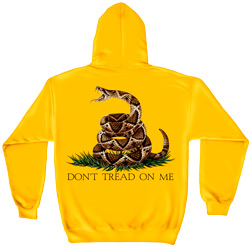 Today the company offers 360 designs. While Shehady says that word-of-mouth always helps, business truly exploded when Erazor Bits began attending trade shows about three years ago. Such interactions helped the company decide to introduce an innovative drop ship program, whereby merchandise is moved from them directly to the retailer without going through the usual distribution channels.
"It is a great program that offers more to our retailers, at no additional charge to them," he notes. "It has really helped us grow our business, we are shipping orders all day long. And at Christmas we are processing 2,000 orders a day, all of them Internet orders."
Erazor Bits has no official minimum order requirement. "We will ship a single item to a customer," Shehady says, "but they must be a vendor and not just a consumer."
Another recent innovation is a patent-pending acrylic rack that can be purchased by retailers to display Erazor Bits merchandise and signage, which the president says, "has been very popular with a lot of vendors."
"They are very modular, almost like a kiosk," Shehady explains. "They are about two-foot square, and offer what we call 'white-glove service.' Sometimes a buyer makes a bad decision, or wants to change their inventory based on the season or for other reasons. With our rack program, if something does not sell, they can send it back for credit and replace it with another item."
As for the company's unusual name, Shehady says it began "back before we all had computers, when we used to draw everything on drafting boards. At the end of each day, there would be all these eraser bits on the floor that needed to be swept up. After we switched to the digital world, all the eraser bits disappeared – but the name remained."