By Kevin Zimmerman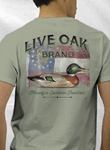 Soon to celebrate its 28th year of business, "Southern Lifestyle Apparel" wholesaler Live Oak Brand is very much in expansion mode, planning to add a variety of products to its core line of t-shirts over the next several months.
"Our goal is to be offering a full clothing line by next fall," says owner Garrett Pfeifer, with different types of shirts, shorts, hats, and even underwear, belts, and wallets expected to be available by this time next year. "We will start shipping our Polo-style and button-down shirts, along with hats and visors, in February," he says. "And we will be shipping frosted fleece items in October, which will include long-sleeve shirts, tank tops and hooded sweatshirts."
Live Oak began operations on January 1, 1988. "I had been selling t-shirts around the country for years," Pfeiffer says, "and was struggling to sell $5 shirts in places like Daytona and Myrtle Beach. Meanwhile, my daughter was studying at the University of South Carolina and ordering $35 t-shirts for her sorority."
Plainly a rethinking of business was in store, and Pfeifer was able to transition to selling shirts of higher quality than run-of-the-mill pullovers. Currently that approach involves garment-dyed t-shirts, wherein the shirt is made and then dyed and washed, which results in a softer, broken-in feel and dramatically lessens shrinkage for more consistent sizing. "It makes for a little more expensive shirt," Pfeifer allows, "but these are not basic t-shirts. They generally retail for $26-30, as opposed to the $9-16 you would see for a lesser product."
In addition to its signature Live Oak line, the company also offers its Sugar Magnolia brand of t-shirts at a lower price point for broader appeal. As a result, "most customers who buy Live Oak do not buy Sugar Magnolia," Pfeifer says.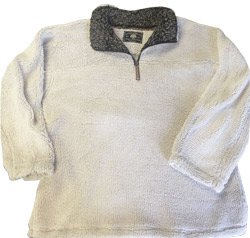 The firm has mined success with its Off the Map line – targeted at the hiking-fishing-hunting-camping crowd, which usually features outdoorsy humor – and its "Original Southern Gentlemen" category, consisting of portraits of Robert E. Lee, Stonewall Jackson, Jefferson Davis, Thomas Jefferson and George Washington. The latter two may not seem congruent with the Civil War figures, but of course both were born in Virginia.
Key to Live Oak's business are the licensing deals it has amassed over the years. "We partner with over 30 colleges," he says proudly, "and by the end of the next college football season, we should have over one hundred schools licensed."
For the past several years Live Oak has also been the licensee for the Ted Nugent outdoor line. The Nuge may have run out of hit songs, but his reinvention as an outspoken advocate for hunting and gun rights has kept him in the spotlight; most of the Live Oak product revolves has "a Second Amendment feel," notes Pfeifer. Outdoor retailer Cabela's is Live Oak's biggest Nugent-related customer.
Live Oak prides itself on the quality of its merchandise. "There are a lot of players in the game," Pfeifer notes, "but we tend to be a little more sophisticated in what we offer than many of our competitors. Our artwork is more high-end – it can sometimes be simple, but it is not cartoony – and we have a higher price point."
Live Oak has well over $1 million in inventory on hand, with roughly 150 designs (80 in long sleeves) each in five sizes. Such stocking practices allow the firm to ship the same day that customers call. "A lot of our competitors do not have those kind of resources," Pfeifer maintains. "That is the kind of thing that has kept us in business for 28 years."