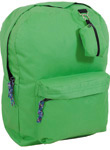 Retailers who want to stock up on backpacks, school supplies and other accessories will find an extensive selection at David's Wholesale / 2Moda. The company manufactures a full line of high quality backpacks in a variety of colors, sizes and styles, and all new styles for 2013 are available on the website.
The IR Express is a great all around backpack/daypack constructed of sturdy 600-denier polyester. It has a large main compartment and a small front pocket, and measures 17 inches long and 12 inches wide. The IR Express wholesales for around $3.15, and the 24-piece case includes 12 colors. At present, shipping is free on all backpack orders. Another back-to-school item on every child's list is a school supply pack. David's Wholesale / 2Moda offers a kit that includes six number two pencils, 12 colored pencils, one glue stick, one eraser, one ruler and one pencil sharpener, all in a clear plastic case. The wholesale price is $1.60, and a case contains 24 packs.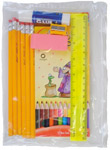 Launched in 1988, the company also carries year-round sellers, including handbags, wallets, cell phone cases, watches, scarves and jewelry. The firm also offers a wide selection of popular cross body handbags in a variety of sought after animal prints and trending fabrics, such as jute.
Trends leader
David Semel, president, has been selling fashion accessories for 25 years. "I have developed an eye for what people want to buy," he shares. "I watch what people are wearing and what the stores are showing and selling. Our years of experience help us determine what is going to sell. In fact, many of our competitors buy from us."
David's Wholesale / 2Moda strives to provide its customers with both great prices and quality products. Most of the company's merchandise sells for around $3 apiece, and markup is two to three times the wholesale price. "We like to say we have fashion at a price," Semel notes. With a massive inventory, the company ships most orders the day they are received. "Customer service is paramount here. We are known for that," Semel adds. The minimum order is one case.
Where to buy: