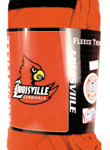 Everyone is a fan of something, whether it's a sports team, movie character, cartoon or alma mater. That is why licensed products are popular sellers in any retail arena. They are the perfect impulse buy and the ultimate gift for any holiday or season, for young and old alike. To help prepare for holiday buying, we rounded up five major licensed product pros, supplying everything from sporting goods to jewelry to home décor to children's apparel.
Launched in 1998, St. Louis Wholesale's licensed products include NFL, MLB, NCAA, NASCAR, NBA, NHL, Harley and Disney. "We have everything including throw blankets, ball caps, beanies, ladies' purses, dog tags, earrings, necklaces, money clips and sunglasses. We get something new in every day, so we always have fresh merchandise," reveals Robin Payeur, executive director. The popularity of licensed sports products is deeply rooted, she explains. "There are die-hard fans who will always buy licensed merchandise to show support for their teams. People are, by nature, very competitive and want to voice which teams they think are the best," Payeur says.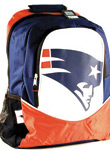 St. Louis Wholesale recently added backpacks to its line, and they are available with NFL, NCAA, NBA and MLB team logos. Leather men's wallets, officially licensed for every team, also were recently introduced. "Consumers love them and they are selling really well," Payeur notes. "They make great stocking stuffers for the holidays." Available in black, brown and tan, the wallets retail for $17.99 to $24.99. Another new item coming in August is a five-foot-long ladies' silk scarf. The company's minimum order is $50 with a credit card, and $100 COD. Displays are available for sunglasses, jewelry and jersey grip gloves. St. Louis Wholesale will be exhibiting at ASD Las Vegas in August, at booth #SL4225.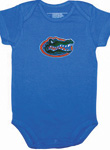 Creative Knitwear makes licensed collegiate apparel and accessories for the newborn through 4T market. The company, now in its 11th year, has around 260 college licenses. "People get excited about their team colors, and they like to dress their babies and children as fans," says Phyllis Marks, director. "We take pride in making fun and fantastic quality team gear for the next generation of fans."
Creative Knitwear's extensive line of licensed products includes headwear, footwear, blankets, shirts, mini cheerleader bodysuits and outerwear. The company's diaper bag, designed by Marks, comes with an oversized changing pad. "I kept it simple so both mothers and dads would proudly carry it. It also makes a great tote bag." The diaper/tote bag is available in various team color combinations. It wholesales for $22, and like all the company's products, usually sells at keystone. The firm's minimum order is $100, the merchandise is machine washable, and the colors stay vibrant, Marks points out. "Our products are made of buttery soft fabrics, and they offer the quality that mothers and dads look for. We put a lot of attention into the details, and we are always introducing new products. We have some new, exciting things coming out soon."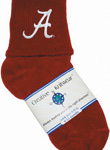 Retailers interested in carrying Creative Knitwear's products are invited to contact Neal Marks, sales manager. "He is very knowledgeable and knows what works well in different stores and markets," Phyllis Marks shares. "He will help people stock their shops according to their area of the country. We are dedicated to the success of our customers." Creative Knitwear attends several trade shows each year, to enable retailers to see and feel its products up close. The company will be exhibiting at ASD Las Vegas in August at booth #SL2148.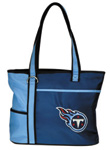 Charm 14 is a leading supplier of licensed fashion handbags and totes, and carries over 100 licenses, including collegiate, NBA, NFL, NHL and MLB products. Merchandise includes an ID case, lunch tote, mini bowler, tote, traveler, wristlet and the "purseplus." "The purseplus has always been our number one seller," states Ron Muraco, sales manager. "We just increased the size of the bag, and it accommodates most cell phones. Consumers slip their phone behind a plastic screen, and they can still operate the touch/text screen. The purseplus has a wrist strap, a cross body strap, a zipper pocket on the inside for credit cards and cash, and a bigger pocket on the back. It is quite functional." The licensed purseplus wholesales for $10.
For retailers interested in trying an assortment of licensed products, Charm 14 offers the Gameday Handbag Program display rack. It includes 36 phone wallets, 36 pursepluses, 12 travelers, six totes and six lunch bags. "The assortment is a great way for retailers to show the entire line and generate interest," Muraco assures. Merchants can mix and match whatever teams they like, in three-piece combinations. The unit wholesales for around $1,000, and markup is 60 percent or more.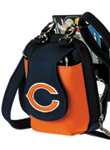 Charm 14 is dedicated to quality, and all logos are embroidered. The company has a huge inventory in stock and ships within 24 to 48 hours of receiving an order. The minimum order is $200 for new customers and $100 for existing customers, but Muraco says he will work with buyers so they have what they need. Charm 14 is also continuing to develop new products. "We are a bag company. It is something we do well, and we develop the line as we hear requests from consumers."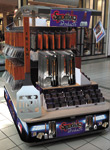 Sportula Products offers a line of licensed sports and enthusiast based heavy-duty stainless steel grilling tools and accessories. They let anyone make a statement while tailgating or cooking, indoors or outside. "Personalization is a big thing right now, and people love their teams," stresses David Bazzoni, president. "They are passionate about their team's success, and they want to show their pride by using products that represent brands they love. We connect brands to fans through unique products that are functional in use, but novel in nature. Gift buyers love our products because they know that our products connect on an emotional level with those people on their Christmas list."
Sportula Products has licenses with the NFL, MLB, NHL, U.S. Marine Corps, U.S. Army, U.S. Air Force and over 130 colleges and universities. In addition to the company's licensed line, it offers enthusiast products such as "Camo Buck" for the hunter, and laser cut sentiments such as, "#1 Dad," "#1 Grandpa" and "Palmetto Moon." The Sportula is the firm's flagship product, and is a heavy-duty stainless steel grilling spatula, laser-cut to reflect a sports team logo or other image. It measures 18.5 by four inches, just the right size for a holiday stocking, with maple handles and a bottle opener at the end of each handle. Sportula Products also manufactures a three-piece barbecue set that comprises the Sportula, a matching set of heavy-duty tongs, and a customized grilling fork.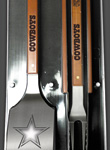 The company's latest introduction, Grill-A-Tongs, are heavy-duty grilling utensils. "They cannot be classified as a mere spatula or set of tongs, because of their ability to flip, turn, rotate and scoop all sizes of meat," Bazzoni points out. Along with its unique laser-cut design, the product has durable brass rivets, hard maple handles and custom lettering on each side of the handles. "The longer handles are a great safety feature, too," Bazzoni adds. All products work equally well outdoors and in the kitchen. Retail prices are Sportula, $24.99; Grill-A-Tongs, $34.99; and the three-piece BBQ set, $49.99. The company offers several wholesale programs for sellers, and the minimum order is three pieces per SKU. A full visual merchandising program is available, as well as corrugated counter and floor displays. Sportula Products will be exhibiting at ASD Las Vegas in August.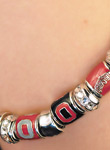 Jewelry merchants will find a wide array of licensed sports beads and finished jewelry pieces, including earrings, bracelets, pendants, rings and charms, at Teagan Co. "A lot of older people who go to games feel an incredible sense of loyalty, and our jewelry is a subtle, sophisticated way for them to show they are fans," states Ernie Hinderliter, owner. "We have 24 school licenses and continue to expand." Hinderliter remains dedicated to his initial mission to provide quality products at affordable prices. "We offer great service and an incredible guarantee. We will replace the product or refund the purchase price for any reason, period." The minimum order is $500 for the first order, and $100 on subsequent orders.
Nothing inspires an emotional purchase like a favorite sports team logo or beloved Disney character. With the wide range of licensed products available, including cozy NFL blanket throws, toddler sized collegiate apparel, and heavy-duty grilling utensils, retailers stand to make sales and win new customers all year long.
Where to buy:
St. Louis Wholesale LLC
801 Texas Court
O'Fallon, MO 63366
Toll Free: 800-340-7642
Tel.: 636-281-1391 ext. 202
Fax: 636-980-1179
Visit: St. Louis Wholesale
Creative Knitwear Inc.
Neal Marks, sales manager
Tel.: 770-530-5984
Visit: Creative Knitwear
Charm 14
Tel.: 866-424-2761
Visit: Charm 14
Sportula Products
Marc Roth, national sales manager
Tel.: 888-713-5343
Visit: Sportula Products
Teagan Co.
640 Penn Place
Winter Park, FL 32789
Toll Free: 888-215-0470
Visit: Teagan Co.