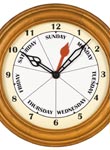 Timing is everything, in business as in life, as DayClocks® inventors John Kallestad and Mark Pierce discovered many years ago. The idea for the Classic DayClock, which focuses on the days of the week rather than on the exact time, was born in the heart of Nevada in the middle of July. Friends Pierce and Kallestad had been dirt sailing, a form of boating on land versus sea at speeds in excess of 60 mph, for several days in the Black Rock Desert, knowing they would be meeting up with their wives on Friday. The problem was they didn't know when Friday was because their conventional watches only shared hours and minutes. After brainstorming around the campfire one evening, the retired duo solved the issue for everyone who loses track of the days with the creation of the Classic DayClock.
Divided into equal, pie-shaped segments, the Classic DayClock has a hand that makes a complete revolution every 168 hours, or once a week. "You know at a glance what day it is," says Kallestad, president of the company. "Our Classic DayClock is for when the day is more important than the hour. It is the greatest retirement gift in the world under $50. People that are retired love the clock, and it is great for people with memory issues as well." Although the product highlights the day of the week, users can tell the approximate time of day as well. The clock's borderlines denote midnight and the midway point of each day is noon. The Classic DayClock is available in solid mahogany and solid oak with a golden finish, and is nearly 10 inches in diameter.
DayClocks Inc. also manufactures the Contemporary DayClock, a wall clock that combines the days of the week with the time of day. It is available in three sizes, around 10 inches, 12 and 13 inches in diameter, and is available with either a platinum or oak finish. "It is the only analog clock in the world that tells both the time and the day," Kallestad remarks. "It's a great clock for everyone."
DayClocks are a unique addition to any gift or novelty shop, and come in eye-catching packaging that complements the style and color of each product. "Forty percent of our sales are in the last three months of the year, when people are buying gifts," Kallestad points out.  In addition, it sells well at home décor shops, and is a popular purchase for motor homes and vacation properties, as well as college dorms. DayClocks Inc. has three patents covering 11 designs for the DayClock face, and it has applied for two additional design patents and for a utility patent on the DayClocks movement.
Where to buy
DayClocks, Inc.
69 Glen Carran Circle
Sparks, NV 89431
Toll Free: 866-329-2562 (866-DAYCLOCKS)
Tel.: 775-853-8222
Visit DayClocks, Inc.