By Eric Leuenberger
Google Product Listing Ads are a type of advertising that follows the pay-per-click (PPC) model. This kind of promotion, however, presents a greater opportunity than a typical text-only ad, which was long the cornerstone of PPC advertising. With Product Listing Ads, businesses can include rich product details, including merchant name, product images, product name, price and message (i.e., fast, free shipping on all purchases). The promotional messaging is the only text over which the advertiser has control. Under the right circumstances, sellers that take advantage of Product Listing Ads achieve greater visibility across the Google Shopping network as well as within the standard Google Search results.
To utilize Product Listing Ads, an advertiser must have a Google Merchant Center account and tie it to his or her AdWords account. This is done from within the Merchant Center and can be found by going to Settings > AdWords from the menu navigation (shown below).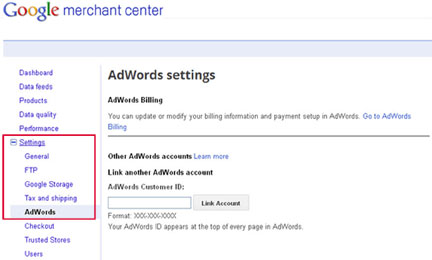 Advertisers do not need to add any additional keywords or ad text to a Product Listing Ad campaign, as Google will automatically show the most relevant products in its results upon a user search query. Relevancy is determined by several factors, including product information that is fed to Google through the Merchant Center, and can take into consideration such factors as product description and name.
Product Listing Ads integrated into standard search results have been shown to achieve higher click-through rates as well as good conversion rates. This is, in part, because an image makes an ad stand out from other items on the page. In addition, links that are generated for each listing included in the merchant's product feed to Google go directly to the product page itself, creating the ideal landing page.
To optimize Product Listing Ads, advertisers should create a dedicated campaign group. This enables them to control budgeting and also provides options that are not available with other campaign structures. In addition to developing a separate campaign, there are a few more things that should be kept in mind to ensure your Product Listing Ads stay active in the search listings. First and foremost, merchants must resubmit an updated product feed each month to Google.
Feeds expire within 30 days and typically merchants should resubmit feeds at day 28. If a feed expires, the products will be removed from the product listings, and it will take time for them to be reactivated. To avoid this, merchants can set up Google to automatically fetch the feed at a given time each month. Be sure the feed is a new one that has been generated recently or Google will pull the prior feed expiration date.
Furthermore, merchants must ensure that a proper UPC code is present for each product. Although feeds may be accepted initially without the UPC codes, the products in them can be removed from the listings if information is missing.
Two other elements that must be present for a feed to be accepted and pass all validation requirements are the retailer's tax and shipping information. Retailers can submit tax and shipping information on a per product basis within the feed itself, or they can set a storewide policy for tax and shipping from within their Google Merchant Center account. The latter is easier and more practical for stores that have a blanket tax and shipping setup. Setup from within the Merchant Center account can be found by going to Settings > Tax and Shipping from the left navigation bar (shown below).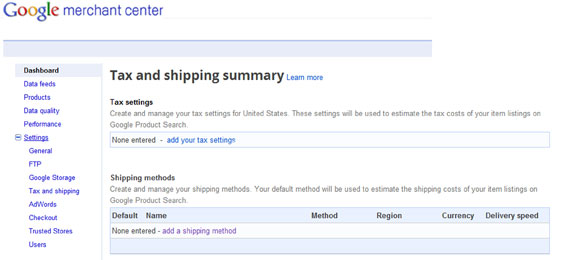 Product Listing Ads have quickly become an excellent means of advertising for merchants. The benefits include:
• More traffic and leads. Businesses using Product Listing Ads report significantly higher click through rates (CTR) when compared to standard text ads shown in the same location for Google Shopping searches. Some advertisers have even reported double or triple click through rates when compared to traditional ads.
• More qualified traffic. The inclusion of more product oriented information in ads (i.e., image and price) helps shoppers who see the ad make more informed buying decisions earlier in the purchase process. The result is less click waste and greater likelihood for shoppers who do click to complete a purchase.
• Easy management. Unlike traditional PPC advertising that involves keyword research and careful monthly management, Product Listing Ads are mostly automated once the campaign is setup. Rather than using keywords to determine what ads to show, Google matches the search query entered with the most relevant products listed in the Merchant Center feed. Management is primarily limited to making sure the feed stays up-to-date on a monthly basis.
• Broader reach. It is possible with Product Listing Ads for multiple items from one merchant to show up in the search results at the same time. In addition, it is possible for a regular text ad to appear alongside these listings. More coverage across the search page landscape increases the chances of winning the click.
The ever changing landscape of search, along with recent additions by Google of enhanced search campaigns, will no doubt continue to evolve this form of advertising, and it is exciting to see what the future holds. One thing is certain—advertisers who take advantage of Product Listing Ads now often get excellent results from their efforts with little management required, a welcome relief for many merchants.
Eric Leuenberger is an ecommerce expert, founder of Ecommerce Amplifier and owner of Voom Ventures, LLC, whose products and services help storeowners and operators increase traffic, maximize ROI, decrease expenses and increase revenue. Leuenberger can be contacted at www.voomventures.com or 866-602-2673.