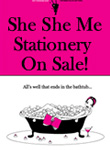 For retailers who want to expand their existing product lines or add fun impulse items to the mix, She She Me is making it more appealing than ever with its vast line of stationery and gifts for every season. This one-time opportunity enables retailers to stock up on cases of select designer products at up to 70 percent off wholesale, from the company that launched one of the original and most popular fashion blogs on the web. The She She Me blog is devoted to helping women stay chic and stylish with fashion and beauty tips, product introductions and reviews. The website also shares newsletters written by different fictional characters, including She She Me, a single working girl who never ages; Shop Girl, the resident fashionista; Girly, a beauty expert; and Pretty Mama, a sophisticated mom.
In addition to providing exclusive fashion and product news, She She Me manufactures a large array of women's stationery and gift items, which are carried in more than 500 stores throughout the U.S. and Canada. Outlets for She She Me's products are mainly local and regional stores, and include stationery and gift shops, women's boutiques, women's spa and fitness stores, lingerie shops, wedding gown and accessory stores, and more.
"More than 40,000 people regularly read our newsletters, and we're also known for our stylish gift items," says Gary Laney, general manager of the company. "For this off season promotion, retailers will get great profit margins on our stationery and fashion items, and with these incredibly low prices, it's the ideal time for merchants to stock up for all seasons."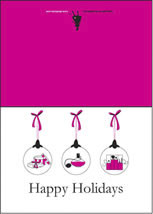 Now through April 30th, or until supplies last, She She Me is offering special deals on blank imprintable invitations, notecards, notepads, gift enclosures and journals. The firm is also selling, at deep discounts, women's tee shirts, beach towels, tote bags, mugs and shower caps, in limited supply. Merchandise now available includes:
Flat blank imprintable invitations, printed on high quality, slightly textured 80 lb. Sundance felt. Laser and inkjet compatible, the invitations are run through a computer after the text layout is configured. Invitations are available in myriad designs, such as party bubbles, polka dots, confetti, bridal carriage, baby pram, snowflakes and beach party.
Foldover notecards, also printed on 80 lb. Sundance felt, are three by five inches and blank on the inside. Multiple sentiments are available and include, "I miss you but I'm shopping through the pain," "Happy birthday you darling girl," "Girls' Night out," "I'm not fat, I'm pregnant," "Happy Holidays," and, "Thank you from the bottom of our hearts."
Notecards in two sizes, 4.5 by 6.25 inches and five by seven inches, are printed on heavy stock.
Notepads, each containing 50 pages, are four by six inches. Notepads are printed with phrases such as these wedding themes: "Notes for the big day" and "Words of wisdom."
Cotton tee shirts with capped sleeves come in white, pink and black, with a variety of sayings including, "Accessory Chic" and, "Happy Girls are the prettiest girls."
"Retailers often place our stationery and gift items in wicker baskets or clear acrylic boxes near the checkout register," Laney points out. "Our unique designs and catchy phrases get shoppers' attention, and are easy add-on and impulse buys in literally any shop at any time of year." While the promotion deadline is April 30th, retailers who order before April 10th will receive an additional five percent off. Minimum order required.
Where to buy
She She Me
Toll Free and Fax: 800-325-8152
Visit She She Me