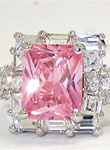 Designer Jewelry has been manufacturing, importing and exporting high quality jewelry for more than 35 years. Selling to wholesalers and distributors worldwide, the company carries fine fashion jewelry, costume jewelry, sterling silver items, closeouts and more. Its higher end fashion jewelry is plated with rhodium or 18 to 24 karat heavy gold electroplate (HGE) over jeweler's brass or sterling silver. Designer Jewelry carries international designer brands, designer replicas and current styles.
"The Princess Kate collection is very popular and reasonably priced," owner Sue Blanchard points out. "It includes a replica of the engagement ring Prince William gave to Princess Kate, the same ring that Prince Charles gave to Lady Diana, and matching earrings and necklace." The three-piece set (item # 12456EMDSET) sells for $32.99. "The Mx Signature Collection also does very well," Blanchard says. Part of the Mx Signature Collection is a set of six bangles embedded with Swarovski Austrian crystals (item # 8723DM), which sells for $18.99.
"Bangle bracelets are particularly popular right now," Blanchard notes, "and we have a gigantic selection of 100 to 200 different bangle bracelets at any given time." Another popular trend centers on big, bold designer rings. "We have more than 500 rings from which to choose," she says. "My prices are very low," Blanchard adds. "Typical wholesale prices range from $2 to $20. Markup can be two, three and even four times the wholesale price." Designer Jewelry requires a minimum order of $198 for first time buyers and a low minimum order of $89 thereafter.
Designer Jewelry launched its website www.designer-jewelry.com 15 years ago. "Everything on the website is cross-referenced. If you search for an item number, all the items that match it will be displayed," Blanchard explains. "Everything on our website is available and ready to ship," she notes. "Shipping is available at our discounted rate, meaning that if a carrier gives us a discount, we pass that discount on to our customers." In addition, the site offers a helpful wish list function. If a customer adds an item to his or her shopping cart and doesn't process the order, the item will disappear from the cart within a certain amount of time. Items added to the wish list, however, are retained permanently, enabling customers to add these stored items to their shopping cart when they are ready to buy.
Another very important feature on the site, Blanchard stresses, is the, "Free Jewelry Discounts, Coupons, Promotional," section found in the left menu. "Customers should look at this section before they submit their orders and select items that apply to their orders," she states. Promotional items include the opportunity to purchase a $100 gift certificate for the next order for only $49 and free shipping on an order of $500. With its extensive line of distinctive merchandise, promotional discounts, low minimum order and user friendly website, Designer Jewelry is the go-to source for wholesalers and distributors. The company is dedicated to providing the best jewelry fashions and customer service in the industry.
For more information:
Seb's Fashions / Designer Jewelry
South Dixie Highway
PO Box 56-0517
Miami, FL 33256
Toll Free: 800-398-8158
Tel.: 305-278-7770
Website: www.designer-jewelry.com