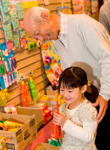 Impulse buys are a staple for any retailer. Those unplanned purchases make up 40 percent of all consumer spending. Nearly everyone makes a spontaneous purchase at one time or another. In fact, overall impulse buys are on the rise. The improving economy and employment rates, rising consumer confidence, and changing consumer habits all contribute to the greater number of unplanned splurges.
Studies show that Millennials make impulse purchases much more frequently than other age groups. Women are also more likely to make more frequent impulse buys. However, men are likely to spend the most money on an impulse purchase. Overall, the average American will spend greater than $110,000 on impulse buys throughout their lifetime.
There is no question that revenue from impulse purchases is an important part of every retailer's business. However, online retailers are disproportionately missing out on impulse sales. Overall, online shopping is on the rise — as are spontaneous purchases. However, most impulse buys are still made in-store. In fact, even shoppers who regularly make spontaneous purchases in-store are less likely to make those kinds of purchases when shopping online. What exactly is keeping this aspect of shopping from translating into the digital world?
Sensory Submission
Emotion, rather than reason or logic, drive impulse buys. In brick and mortar shopping, retailers use all the senses including, smell, touch, lighting, and sound to drive purchases. Smell, in particular, is closely tied to memory, and certain scents can trigger feelings of nostalgia or even specific events. This is why scented products such as perfumes and candles are popular unplanned purchases. The connection between scent and emotion is also why some retailers such as Abercrombie & Fitch have a signature scent wafting through the store at all times. Physically touching products also heavily influences purchasing decisions. Holding products creates a sense of psychological ownership, and greatly increases the likelihood of purchase.
Obviously, shoppers can't smell or touch products online. At least, not yet. However, there are other techniques you can use to appeal to shoppers emotions in a different way. FOMO, or Fear of Missing Out, is a strong emotion in our social-media-driven society. If a product has rave reviews or a record number of purchases, display that information loud and proud on your site. Also connect Instagram to your website, featuring photos your company is tagged in. Seeing other shoppers purchasing and loving your products will make other shoppers not want to miss out.
Online retailers also use tactics to drive a sense of urgency, which is difficult to replicate in brick and mortar spaces. Offering limited-time sales is the easiest way to create urgency. If certain products have limited stock, be sure to alert shoppers to their sell-out possibility. Bold colors and flashy graphics help reinforce the immediacy of their purchase.
Instant Gratification
Since impulse purchases are emotional and about making the shopper feel good, a big part of that appeal is being able to take the item home then and there. For online shoppers, waiting for purchases to arrive in the mail delays gratification, and discourages customers from acting impulsively. Etailers can combat this by offering discounts on express shipping, or free express shipping with purchase of certain sale items.
Low Barrier of Entry
Brick and mortar shopping is simply easier for cheap, solo, impulse buys. After all, the most important factor in the decision to purchase is price, even for impulse purchases. However, for ecommerce sellers, all is not lost. You may never be able to express ship a $2 item for free, and that is okay. In order for brick and mortar shoppers to even make that $2 purchase, they first need to walk into a store. Online retailers can entice shoppers with deals and promotions anytime through email and social media marketing. Etailers can trigger a similar type of impulse scenario by offering deep discounts on limited time offers.
In an increasingly digital world, brick and mortar may still have a stranglehold on impulse buys, but by playing to shoppers emotions, creating a sense of urgency with deep discounts, and offering cheap fast delivery, ecommerce sellers can start to level the playing field.