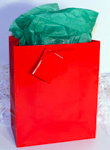 By now, your store is probably stocked to the brim with holiday gifts and goodies. But have you prepared all of the finishing touches? For 31 years, Excelco Products Co. has been a direct importer of tissue paper, gift bags, wrapping paper, and accessories in a variety of designs.
Tissue paper is available in a variety of styles including sheets, reams, packs, and shreds, and comes in 35 colors. Gift bags come in over 200 styles, including popular holiday and Christmas prints, metallic, and holographic designs. New designs and colors are added regularly.
Each year, the average American adult wraps 15.3 presents in the holiday season. Altogether, we send a total of $2.9 billion on gift-wrapping and related accessories each year, with most of those purchases being made around the holiday season. 28 percent of Americans also say that gift-wrapping helps put them in the holiday spirit.
Whether you are selling gift-wrapping for last-minute shopper, offering gift-wrapping as an add-on service, or hosting gift-wrapping events, Excelco offers some of the lowest prices on quality holiday designs. "Excelco's advantage is that as a direct importer and converter, we cut out the middleman and can offer our product line at extremely competitive rates," says Jon Mahal, owner of Excelco Mfg. They usually ship same-day, meaning there's still time to stock up on gift wrapping before the final holiday rush. Visit www.excelcomfg.com for more information and to place an order.