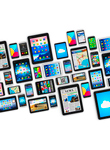 Technology advancements have abounded this year. From retail robots, to the introduction of shopping through augmented reality, technology has become an essential part of retail development. Throughout the years, as new technology has developed, one thing has remained the same: shoppers want increased convenience. Portable technology, such as mobile devices and tablets greatly increase both customers' experience in-store as well as your store associates' training. Based on research done by Boston Retail Partners, 89% of retailers plan to put mobile solutions in the hands of their store associates and 84% of retailers will use mobile point of sale systems in-store by 2020. The major categories in which mobile devices can be used are customer identification and engagement, associate training, task management, and point of sale.
Registers are anchored to counters, but new technology allows purchases to be made anywhere in the store. Using mobile devices as points of sale eases the checkout process for customers. Rather than waiting in line, an associate can help shoppers find an item and checkout from anywhere in the store. In addition to checking out anywhere, if a customer is looking for a specific product, rather than walking to the back room or the computer to check inventory, having a phone or tablet to quickly search, find, order, and purchase the item makes the entire process seamless. Offer customers the ability to checkout instantly without waiting in line or walking to a cash register.
Associate training and communication is enhanced with mobile devices. New hires that are given handheld devices to use while helping customers instantly have access to more information than weeks of training could provide them. Having a database filled with information at one's fingertips as well as having the ability to type a message to a coworker is much easier than hunting a manager down in-store while the customer stands around confused and waiting. Not only will customers see the benefits of store associates using technology to communicate, but employees will as well. Having employees connected increases communication. Dividing tasks via tablets and notifications creates a more efficient workforce. Connecting everyone will increase communication and order.
Most importantly, technology enhances personalization. With one click, store associates can save customer files, have a history of purchases, product searches, wishlists, and more. Having a database that tracks customers and their purchases will make every single one of their shopping experiences special and have them coming back for more. Personalization has been a buzzword for retailers this year and using mobile devices will only enhance its development in your store. So what are you waiting for? Technology has so many uses in-store. Using mobile devices for just one of these tasks will instantly strengthen your workforce and the overall experience for your shoppers.