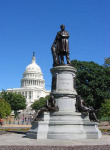 Real estate research firm Delta Associates reports that the recent bankruptcy of many businesses in Washington, DC is resulting in an unexpected phenomenon. Specifically, many discount retailers like Wal-Mart, Hobby Lobby, AJ Wright, Forman Mills and Nordstrom Rack are moving into the area, taking up the space once occupied by stores that have gone out of business–most notably Circuit City.
"We are projecting in Washington that consumer spending in 2010 will increase 3.2 percent above the national level of 2.5 percent," said Delta Associates chief executive Gregory H. Leisch.
The Washington, DC area is No. 1 in both median household income and job growth over the past decade. Naturally, these are statistics that will attract those national retail chains with an eye for expansion, which would explain why currently shopping centers and malls are doing better there than apartments, offices and other such real estate properties.
Experts believe that consumer confidence and spending are both on the rise, meaning that retail properties will be quicker to recover than many other properties. For example, the vacancy rate for retail properties in Washington, DC during the first quarter of 2010 was at 5.7 percent (the national average is 9.5 percent.) It is also telling to compare that figure to the vacancy rate in the area in the categories of apartments (7.3 percent), industrial (11.3 percent) and offices (13 percent).