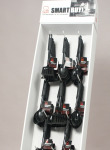 The people behind Chef Craft pride themselves on offering just about everything imaginable for the kitchen. There are currently more than 650 items offered, as well as an ever-growing craft line. The company philosophy is described as being all about building long, healthy relationship with  customers.
For example, Chef Craft works continually to improve the product line and value of each individual product. According to the company website, www.chefcraft.com, the chrome kitchen tools for sale are made of heavy steel, triple chrome plated, with welded construction. Nevertheless, despite the high quality, they are still offered at an introductory price point. This is the kind of value around which Steve Brownell, Peter Ernster, the owners of Chef Craft Corp., have built their company.
As a wholesale supplier, Chef Craft has many programs in place for specific markets that are included amongst its customers. These include programs for grocery stores, dollar stores, drug stores, hardware stores and many others. Inline Wall Programs are offered, as well as a variety of custom displays. A visit to the company website will reveal many of the in/out promotions offered, including Power Wings, Power Panels, PDQ's and rack displays.
Service is another element of the Chef Craft formula for success. "We will take the time to get to know you and your business," reads the declaration on the website, along with the assurance that Chef Craft's customer service is "unmatched." A total of nearly 99 percent of orders are shipped complete within three days of the order being approved. Any order over 200 pounds ships freight free.
Contact:
Chef Craft Corp.
P.O. Box 370
Pewaukee, WI 53072
Ph: 800-628-3794
Website: www.chefcraft.com