DMA Inc. is an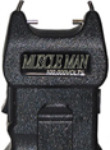 Arlington, TX-based company which distributes wholesale airsoft guns, knives, swords and novelty items, as well as security equipment of all kinds. Most orders are shipped the same day, and the company offers to beat any other advertised or regular listed prices.
Included in DMA's line of security equipment are personal security items, law enforcement items, security cameras and CCTV equipment. The company offers discounts for Case prices, as well as any order over $1,000. Anyone looking to carry DMA products is encouraged to inquiry about wholesale orders between the hours of 9 and 5 (Pacific time), Monday through Friday.
DMA maintains a consistent inventory of items, and boasts thousands of in-stock products, thus ensuring that its customers' orders will not get stuck on back-order. For this reason, if you're in the market for products such as stunguns and imported knives/swords, DMA is a supplier on which you can rely.
The CCTV division of DMA is available to answer questions, and there is also installation of camera equipment available. The company's website is currently under construction, but customers can inquire about these services via the CCTV division phone line at 1-800-337-2466.
Contact:
DMA Inc.
3015 East Randol Mill Road
Arlington, TX 76011
Ph: 817-633-6123
Website: www.dma-inc.net